Sometimes life gets tough for us. We encounter different trials and challenges in life that make us hit rock bottom. Many a time, there's a series of difficulties, defeats, and discouragements that often lead us to hopelessness. Yet, as we experience pain during our darkest moments, it is also the season where God uses our sufferings to grow and strengthen us. Trusting in Him gives us hope for when we trust Him our hope increases. We trust that He knows what's best for us. As we go through life, we discover that God is the ultimate solid rock. He is our ground and pillar that will never let us fall.  So every time we feel that we are going through the phase of hopelessness, let's find strength and encouragement in prayer.  Let these prayers for hope become your guidance, as you find hope and know God's powerful and loving character. 
Prayers for Hope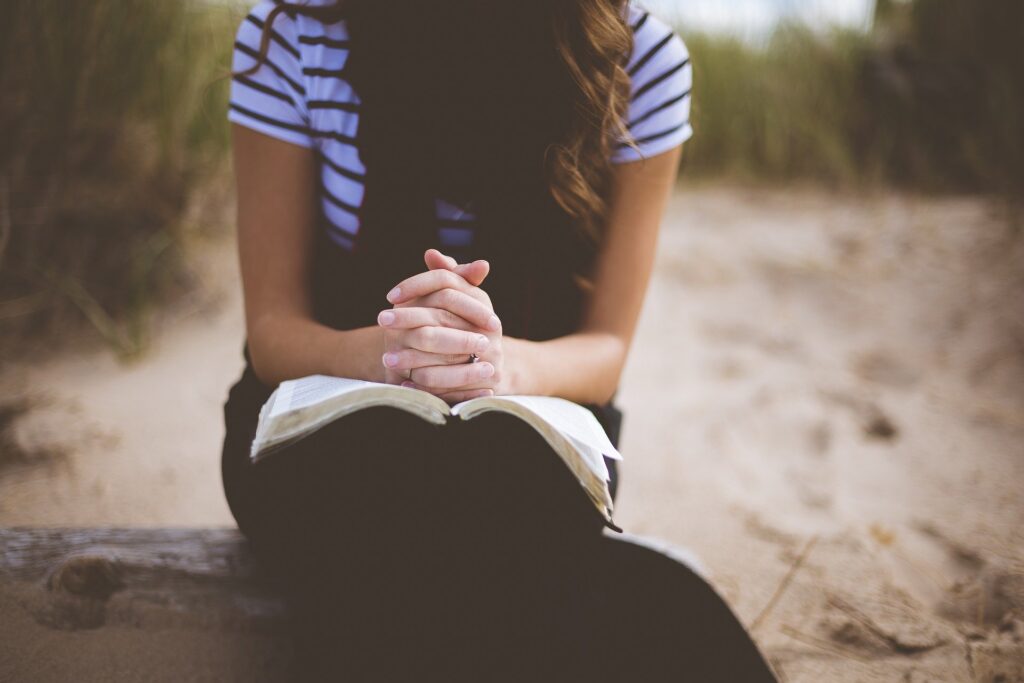 Have you ever felt that the world is against you? Or encountered a certain situation that made you worry or have made you feel helpless? Trials and tribulations are inevitable. Every time we are caught up in these circumstances, we are weary, anxious, helpless, and hopeless. Sometimes, we feel like there's no more hope left for us; as if it's the end of everything. It may seem to be a hard battle, but remember, God is fighting with us. As the Bible states, we can cast all our worries and cares to Him because he cares for us (1 Peter 5:7). When we feel like we're losing hope, let these prayers for hope to remind us to find our refuge in God. 
Matthew 5:3  Blessed are the poor in spirit, for theirs is the kingdom of heaven.
Father God,
Right now, I'm facing a difficult situation. I feel that my spirit is weak, crushed, lost, and hopeless. But, in you I know I can find hope because you are the ultimate hope of the hopeless. As we fight for this battle, may you reveal yourself more to us. You are higher than any mountains, Lord. We lay all our burdens to you. We decrease for more of you. Heal our crushed spirit and help us renew our faith. May this season help us to understand you all the more. In you Lord, we believe that we will come out victorious. Amen.  
In Matthew 5:3, people who experienced brokenness will be blessed. They will see God from a different perspective than that of others. Sometimes, we feel that God is too far away from us, especially in times where we face a challenge in our lives. With this in mind, we lose our hope which weakens our faith. Yet, the Bible promises that God remains close to those who are broken. He makes them stronger than they were before. Why? Because sometimes, during our difficulties, we get to know God's character more.
Ephesians 3:20  Now to him who is able to do immeasurably more than all we ask or imagine, according to his power that is at work within us.
When evil darkens our world, give us light. Give us hope, when despair numbs our soul. When we stumble and fall, lift us. Give us faith when doubts assail us. When nothing seems sure, give us trust. Give us vision when ideals fade. When we lose our way, be our guide! That we may find serenity in Your presence, and purpose in doing Your will.  – John D. Rayner 
This prayer tells us that God is our ultimate source of hope. Most of us tend to use our capabilities in an attempt to solve our worries. We then get frustrated when we fail to achieve the result that we want. Ephesians 3:20 says that God can do far more than we can ask or imagine. He does everything by his power that will help to improve our lives. Let's admit, some of us tend to limit God's abilities. However, He is a powerful God who can do the impossible. So what's stopping us from fully putting our hope in him? 
2 Thessalonians 2:16-17  May our Lord Jesus Christ himself and God our Father, who loved us and by his grace gave us eternal encouragement and good hope, encourage your hearts and strengthen you in every good deed and word.
Now may our Lord Jesus Christ himself and God our Father, who loved us and through grace gave us eternal comfort and good hope, comfort your hearts and strengthen them in every good work and word. – Paul's Second Letter to the Thessalonians
One of the prayers for hope in the Bible is in the form of a letter. Paul's letter reminds us that God is a loving God. He gives us comfort and peace not because of our hard work, but because He is gracious. Allowing Jesus into our lives will console and strengthen us in everything we say or do. Whatever situation we face, we should hold on to Him because he will not let us fall. His overflowing love gives us assurance in hope. 
Hebrews 6:19-20  We have this hope as an anchor for the soul, firm, and secure. It enters the inner sanctuary behind the curtain, where our forerunner, Jesus, has entered on our behalf. He has become a high priest forever, in the order of Melchizedek.
Lord, help me to hear you saying, "I am your hope" over all the other voices. Lord, your word says, you are the hope for hopeless, so I'm running to you with both hands stretched out and grabbing on to you. Fill me up with hope and give me a tangible reminder today that hope is an unbreakable spiritual lifeline. God, you know those things in my heart that I barely dare to hope for, today I give them to you, I trust them to you, and ask that you because I know that you can do more than I could ever guess, imagine or request in your wildest dreams. God, you are my hope, and I trust you. Amen.
No matter what circumstances we are in, our hope in God is secure and unbreakable.  However, trials and tribulations will on occasion overcome our lives, making us feel hopeless. We panic because we try to surpass these challenges on our own. But, these prayers teach us to entrust all our burdens to God because he can do the most impossible. In Hebrews 6:19, it is said that our hope is secure, unmovable, and anchored in God. It is like a ship anchored firmly in the seabed. And this promise gives us assurance, confidence, and encouragement. 
Hebrews 10:23  Let us hold tightly without wavering to the hope we affirm, for God can be trusted to keep his promise. 
May the Lord show you the greatness of his goodness, that you overflow with thanks every day. May the Lord bless you abundantly with rest for the heart, power for virtue, wisdom for life, and patience in suffering. I pray that the Lord bless you with joyful hope, and one day with the inexpressible joys of eternal life. Amen.
Every time we face challenges, let's not hesitate to seek God for guidance. He gives us a promise of hope from the start. And that hope will never let us drift apart from God. And whatever we ask in prayer, he will give it to us as long as it is according to His will.  
Deuteronomy 31:8  Do not be afraid or discouraged, for the Lord will personally go ahead of you. He will be with you; he will neither fail you nor abandon you. 
Sweet Jesus, I come before you with my heart heavy. I ask for your help. I lack hope. Lord, please grant me your eternal hope. Father, without you, I am nothing. And without You,  I cannot face these obstacles. Amen.
Hopelessness and fear also occur when we don't have someone to hold on to during our dark seasons. We then end up desperately calling on God for help. He is our stronghold. One of God's promises is that He will always be with us. He will not let us fail nor will He abandon us. We can entrust our lives to him. 
Matthew 7:7-8  Ask and it will be given to you; seek and you will find; knock and the door will be opened to you. For everyone who asks receives; the one who seeks finds; and to the one who knocks, the door will be opened.
Heavenly Father, I am your humble servant, I come before you today in need of hope. There are times when I feel helpless. There are times when I feel weak. I pray for hope and for a better future. I'm seeking for hope for a better life. I need hope for love and kindness. Some say that the sky is at it's darkest just before the light. I ask that this is true, for all seems dark. I'm in need of your light, Lord, in every way. I pray to be filled with your light from head to toe. To bask in your glory. To know that all is right in the world, as you have planned, and as you want it to be. Help me to walk in your light, and live my life in faith and glory. In your name, I pray, Amen.
Because of salvation, we have received through Jesus Christ, we can now pray directly to God instead of having to go through a leader of a church. Before despair and frustration get us, let's not hesitate to ask God for help. As we seek God for hope and light, let's remember that God hears our prayers. Don't give up, but continue to ask him for hope, patience, wisdom, love, and understanding. He will give it to you.  
Isaiah 40:31  But they who wait for the Lord shall renew their strength; they shall mount up with wings like eagles, they shall run and not be weary, they shall walk and not faint.
Dear Heavenly Father, as I come before you with my heart heavy, I ask for Your help. I lack hope, Lord, and pray that You grant me Your eternal hope. Without You, I am nothing, Lord. Without You, I cannot face these obstacles alone. I am at the end of my rope, and I need you to carry me, to lift me in your arms, and restore my faith and hope, Lord. Bring me the strength I need to survive and to carry on Your will. I acknowledge that this is not something I can do without You. I trust in you, Lord, and Your will is mine. Amen.
Trusting is patiently expecting that God will fulfill his promises in his word. It gives us strength above life's difficulties. This prayer reminds when everything seems to fall apart, we can run to God. He has the power to control all aspects of our lives. Although our faith may be struggling or weak, God will enable and will continue to help us.
Finding Strength and Security through Prayers of Hope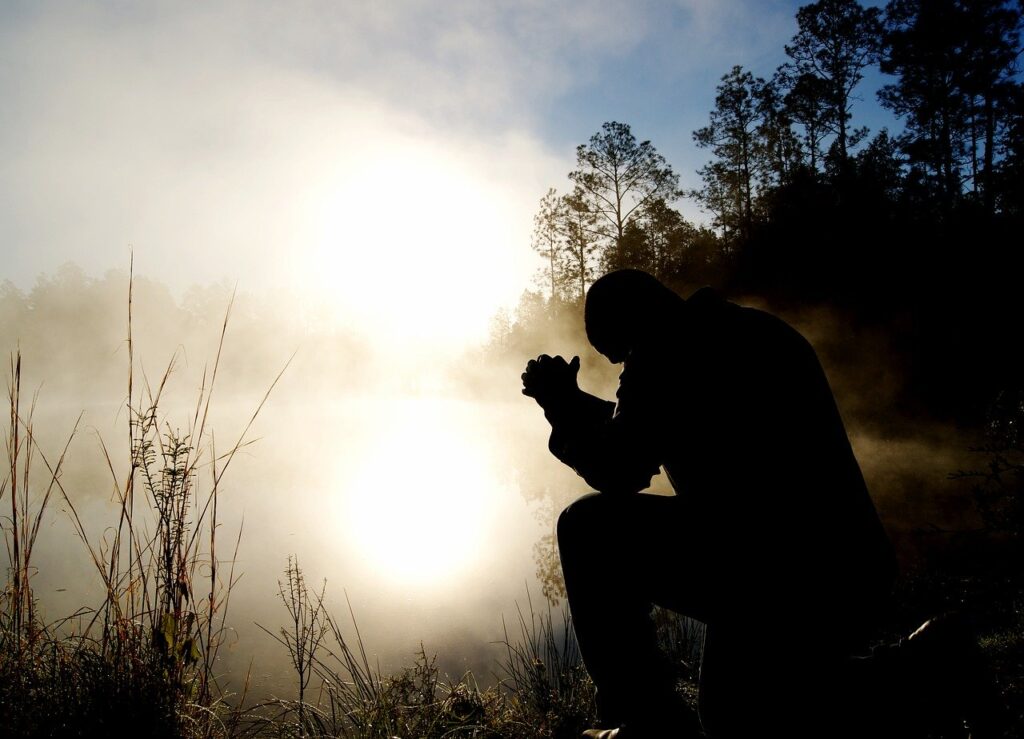 Most trials and tribulations are difficult to handle, especially in our limited capabilities. We find ourselves in the middle of raging storms without having an idea of how to get away from those. It makes us weak and insecure. And worst, it makes us feel extremely hopeless. And this is the reason why almost all prayers for hope include a request for strength and security. At the end of the day, we know that we can only find peace and security from God. He is the source of our strength that the enemy can't tear apart. 
These prayers for hope give us the security to go into the unknown with enough strength and courage. 
Isaiah 30:15  This is what the Sovereign Lord, the Holy One of Israel, says: "Only in returning to me and resting in me will you be saved. In quietness and confidence is your strength. But you would have none of it. 
O God of peace, who hast taught us that in returning and rest we shall be saved, in quietness and confidence shall be our strength: By the might of thy Spirit lift us, we pray thee, to thy presence, where we may be still and know that thou art God; through Jesus Christ our Lord. Amen.  – Episcopal Prayer
Only in God alone, we can find hope and salvation. Because we know that God gives us salvation, we can trust him and be peacefully confident that he will give us the strength to face our difficulties. Whatever troubles we are facing, we can let go and let God.
Ephesians 3:16-17  I pray that out of his glorious riches he may strengthen you with power through his Spirit in your inner being, so that Christ may dwell in your hearts through faith. And I pray that you, being rooted and established in love.
I pray that, according to the riches of his glory, he may grant that you may be strengthened in your inner being with power through his Spirit and that Christ may dwell in your hearts through faith, as you are being rooted and grounded in love. – Paul's letter to the Ephesians
Paul's prayer for the Ephesians is a great reminder for us that God is gracious. Aside from that, he has unlimited resources so we can put our security in him. He can empower us with inner strength through his Spirit. As we trust in the Lord, he will grow in our hearts more, and it will make us strong. 
2 Corinthians 12:9  But he said to me, "My grace is sufficient for you, for my power is made perfect in weakness." Therefore I will boast all the more gladly about my weaknesses, so that Christ's power may rest on me.
O Mighty God, 
You are the everlasting God. You alone give power to the weak and strength to those who have none. Lord, you tell me that those who wait on you will renew their strength. I am before you Lord with my arms outstretched and nothing to offer but my trust in You. My trial is draining me, and without Your intervention, I cannot go forward. Amen. 
When affliction starts to enter our lives, it paralyzes our system. It makes us physically, emotionally, and spiritually drained. Yet, this prayer of hope teaches us to find strength in God's presence. God doesn't remove our afflictions immediately, but he demonstrates his power. It shows in our weakness, which gives us courage and hope. As we acknowledge our limitations, the more we depend on God's abilities and not on our own. This prayer also helps us develop our character because in admitting our weaknesses, we affirm God's strength. 
Psalm 46:1-2  God is our refuge and strength, always ready in times of trouble. So we will not fear when earthquakes come and the mountains crumble into the sea. 
Dear God, 
You remind us over and over in your word that you are always with us. You tell us not to fear, and you draw us close into your presence. You're the only place we find refuge in the storms that surround us right now Lord. You're the only place where we can find peace and strength. So we ask you for your words of truth and power to strengthen us in our inner being and lift our hearts to you. Thank you for your goodness. Thank you that you know the way we take and you have a plan. We look to you today our Lord and Savior, it's your face we seek. – Debbie McDaniel
This prayer of hope from Debbie McDaniel reminds us that even when the world falls apart, we don't need to fear. Amidst destruction, we can have quiet confidence in God's ability to save. Fear consumes us as we think of our trials and tribulations. But, the Bible is clear that God is our refuge. Not only a temporary refuge but the eternal fortress.
2 Corinthians 1:4-5  Who comforts us in all our troubles, so that we can comfort those in any trouble with the comfort we ourselves receive from God. For just as we share abundantly in the sufferings of Christ, so also our comfort abounds through Christ.
Lord, thank you that our comfort abounds through Christ. Nothing in the world can bring us the comfort and peace that you alone can offer. Thank you that you understand our trials, and you care. Through our struggle and pain, help us to be your vessels to offer comfort and strength to others who are hurting. Amen.
All of us run to God for comfort. However, this doesn't mean that our struggles will simply go away. Being comforted also means receiving strength, encouragement, and hope to deal with our troubles. The more we suffer, the more God will comfort us. When challenges overwhelm us, allow God to comfort us. And finding comfort is one of the purposes of prayers for hope.
2 Corinthians 2:10  That is why, for Christ's sake, I delight in weaknesses, in insults, in hardships, in persecutions, in difficulties. For when I am weak, then I am strong.
Thank you, Lord, that through every weakness and hard place, your strength is displayed in our lives. We can't do it on our own. But you can, through us. Your power is mighty within us, you are our Helper, and our strength. All things are possible through you. Amen.
Life provides hindrances and setbacks that make us weak, passive, or ineffective. During these moments, allow God to fill us in with his grace. In him, we are stronger than we could on our own. Let's continue to depend on him. 
Psalm 18:1-2  I love you, Lord, my strength. The Lord is my rock, my fortress, and my deliverer; my God is my rock, in whom I take refuge, my shield, and the horn of my salvation, my stronghold.
Lord, I maintain my hope in you, and I hold onto the assurance that what I am praying for is already accomplished in the name of Jesus. Your word promises, "no good thing does He withhold from those that walk uprightly" (Psalm 84:11). I wait upon you for your definition of the "good thing" you will not withhold from me. As David prayed in Psalm 18: "I love you, Lord, my strength. The Lord is my rock, my fortress, and my deliverer; my God is my rock, in whom I take refuge, my shield, and the horn of my salvation, my stronghold." Amen.
God's protection to us is limitless and can take many forms. And knowing that our God is higher than any mountains, we can confidently put our trust in him. He is a solid rock that can't be moved by anyone who would harm us. God is our haven, where the enemy can't follow. He is the shield that comes between us and harm. So when we need hope and protection, we can always run to God. 
Joshua 1:9  Have I not commanded you? Be strong and courageous. Do not be afraid; do not be discouraged, for the Lord your God will be with you wherever you go."
Father God,
As I face trials and tribulations, may you continue to give me strength and courage to overcome those. I pray for you to cover me with your grace and power, so I will not be frightened by these temporary trials. I'm putting my hope in you, God. I know you will not abandon or forsake me. As you said in your word, I should be strong and courageous because you are with me. Whatever challenges I'm facing right now, I will not be afraid because you are with me. I am fighting this battle with you, God. Continue to grant my heart with peace, strength, and courage. I ask this in the name of Jesus, Amen. 
This prayer for hope gives us the strength and courage to face different trials and challenges in our lives. We will not be afraid to face our trials because we have an assurance that God is with us always. In God, we can find hope that is greater than the hope that our falling world offers. Of course, trusting God is part of being strong. Knowing that even when we don't immediately find solutions in our struggles, we have faith in God. 
Psalm 28:7  The Lord is my strength and my shield; my heart trusts in him, and he helps me. My heart leaps for joy, and with my song I praise him.
Lord, I'm lifting all my burdens to you. These make me weak, helpless, and hopeless. I don't have the strength and courage to fight these battles alone. I completely surrender my life to you, God. You are the source of my strength and my unbreakable shield. Amidst trials, I will continue to praise you with joy. Help me God to finish this battle with you. And as I decrease, fill me more with more of you. Amen.
This prayer among the prayers for hope reminds us that our God is all-knowing and powerful. His strength and grace are sufficient for us. And he is always there whenever we need his help. Let's continue to lift our hearts and praise God. With this word, we can have a life full of hope as we face our battles. 
Trusting God During Our Hopeless Season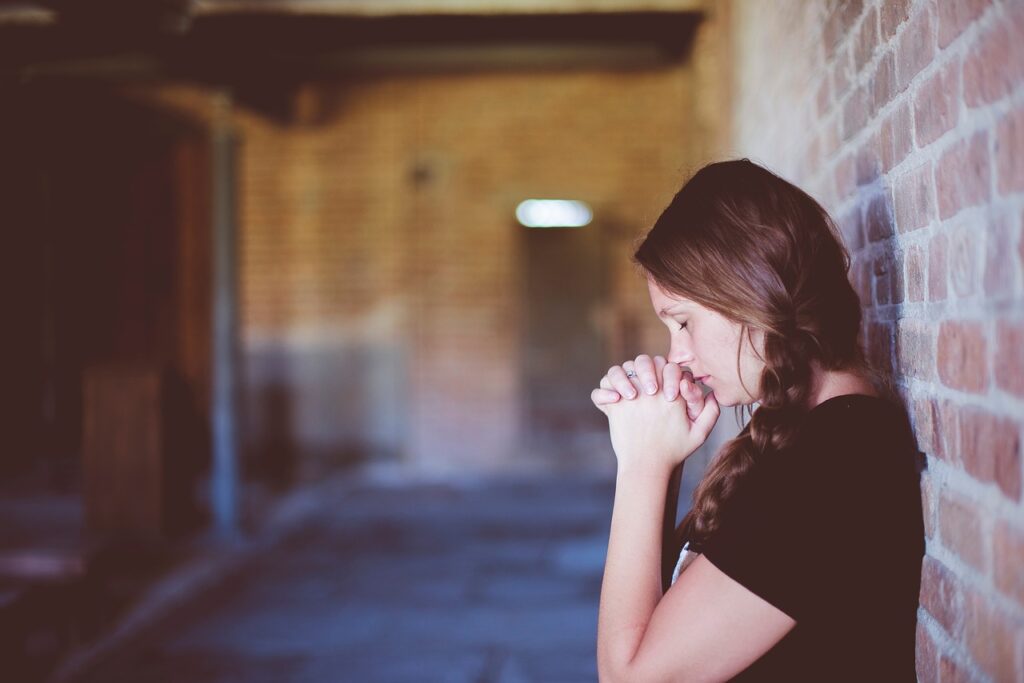 When hopelessness comes in, we also tend to lose our ability to trust. Worries, doubts, and fear will most likely control us. Yet, as we face difficult circumstances in our lives, the more that we have to trust God. He is higher than the mountains. And our trials, no matter how big they may seem, are just pieces of grain to him. Nothing is impossible when it comes to our Lord. We can put our confidence in Him. And trusting God means having an unshakable faith in him.
As these prayers for hope give us serenity, learn to also completely trust God. No amount of struggles can shake us because our God is good.
Philippians 4:6-7  Do not be anxious about anything, but in every situation, by prayer and petition, with thanksgiving, present your requests to God. And the peace of God, which transcends all understanding, will guard your hearts and your minds in Christ Jesus.
God, grant me the serenity to accept the things I cannot change, the courage to change the things that I can, and the wisdom to know the difference.  – Serenity Prayer by Reinhold Niebuhr 
This short prayer from Reinhold Niebuhr leads us to God's promise found in Philippians 4:6-7. There are situations in our lives that we can't change no matter how much we try. But, there are also situations where God gives us the capability to change the outcome. We shouldn't be anxious about those things that are beyond our control. We can entrust these burdens to him. Put your trust in him, and he will grant us, not only hope but also a peace that transcends all understanding. 
John 16:33  "I have told you these things, so that in me you may have peace. In this world, you will have trouble. But take heart! I have overcome the world."
Thank you, Lord, that you are victorious over every trouble and obstacle. Thank you that you have overcome sin, and death, and any evil that we may face today. And because of you, we too are overcomers. We too can have victory, and we can walk strong in your peace.  – Debbie McDaniel
Even in times of trouble, we can declare victory because we have a victorious God. Despite the inevitable struggles we would face, we have an assurance that we are not alone. Jesus will not abandon us either. We should remember that the ultimate victory has been won when Jesus died on the cross for our sins. By then, we can claim peace and trust him in times of difficulty.
James 1:2-3  Consider it pure joy, my brothers and sisters, whenever you face trials of many kinds because you know that the testing of your faith produces perseverance.
Thank you, Lord, that You are producing in us great endurance through the hard places. You are building spiritual muscle. We press in close to your presence today, and no matter what obstacles we're facing, we choose joy. Amen.
One of the reasons why we can entrust all our burdens to God is because he will not forsake us. During this time, we can turn all our hardships into learning. Tough times teach us perseverance, and at the same time, trusting God. 
Hebrews 11:1  Now faith is confidence in what we hope for and assurance about what we do not see.
Almighty Lord God, give us the true faith and make that faith grow in us day by day. Also give us hope and love, so that we may serve our neighbors according to your will; through your Son, Jesus Christ our Lord, who lives and reigns with you and the Holy Spirit, one God, now and forever. Amen.
Prayers for hope are not only for us to ask God for good things, but also letting our faith grow more. Start living a life full of hope by believing in God's character. We can put our hope in God because he will carry out His promises. Let's demonstrate faith as we believe in God's promises even though we don't see those promises materializing yet. May we continue to serve God as well as the people around us so that they can also see hope through us.  
Hebrews 10:22  Let us draw near to God with a sincere heart and with the full assurance that faith brings, having our hearts sprinkled to cleanse us from a guilty conscience and having our bodies washed with pure water. Let us hold unswervingly to the hope we profess, for he who promised is faithful.
Ah, Lord God, Holy Lover of my soul, when you come into my soul, all that is within me will rejoice. You are my glory and the exultation of my heart. You are my hope and refuge on the day of my trouble. Set me free from all evil passions, and heal my heart of all inordinate affections, cure and cleanse me within, that I will be fit to love, courageous to suffer, steady to persevere. Nothing is sweeter than love, nothing more courageous, nothing fuller nor better in heaven and earth; because love is born of God, and can't rest but in God, above all created things. Let me love you more than myself, and love myself except for you, and in you all that truly love you, as the law of love commands, shining out from yourself.  – Thomas à Kempis
Surrendering our lives to God has a lot of privileges. We can now personally and directly go to him to lay down all our burdens. As we grow in our faith, we can overcome doubts and worries. We can find hope in God, and at the same time strengthen our relationship with Him. Allow God's presence to enter our hearts and lead us to a life full of love, courage, and hope. 
Romans 8:28  And we know that in all things God works for the good of those who love him, who have been called according to his purpose.
O Father in heaven, look upon all your people who struggle with anger, anxiety, doubt, frustration, guilt, hopelessness, loss, memories, lack of patience, pain, regret, sadness, selfishness, temptation, and weakness. Your Holy Word tells us, "All things work together for the good of those who love God, who are called according to his purpose." And that means, you make all these things work for your good purpose in our lives, even when we do not understand. Remind us of your invitation, "Cast all your cares upon me," and of your assurance that goes with it, "because I care for you." through your Son, Jesus Christ our Lord. Amen. – Paul C. Stratman, 2017
All of us are facing various difficult battles in our lives. And this prayer tackles, not only our desire to overcome these challenges but also how these events lead us to a deeper faith. It is inevitable, but God can turn every circumstance to our benefit. We should trust in God instead of the riches of the world. Our security should be in God. No matter how difficult our battles are, we will not waver in pain and persecution as our faith is anchored in Him. 
Jeremiah 29:11  For I know the plans I have for you," declares the Lord, "plans to prosper you and not to harm you, plans to give you hope and a future.
Dear Lord, I am your humble servant and I kneel before you today, helpless and weak. I need your hope for love, kindness, and for a better life, Lord. I ask that you fill me from head to toe with your everlasting light. Bathe me in Your glory, Lord, and show me that everything is according to your plan. Help me walk in your glorious light and show me the path so that I may follow you in faith. Amen.
One of the prayers for hope, this prayer gives is a promise God has given to us. We are probably anxious or worried about our struggles or even our future. But in God, we can find hope because He has a future and plans for us. The hope we have in him is boundless. However, this doesn't mean that we will be spared from pain, suffering, or hardships. There will be good days and bad days, but God will always see us through to a glorious conclusion. 
Mark 5:36  Overhearing what they said, Jesus told him, "Don't be afraid; just believe."
Heavenly Father, 
Lately, I've been so worried about things that are out of my control. Help me to trust that you are working every little detail of my life out and that I have nothing to fear or worry about. In Jesus' name, Amen. 
Most of our hardships are beyond our control. But during difficult times, let's continue to trust God. He is in control of everything. We can entrust every aspect of our lives to him. There is both hope and promise in God. And in him, we have nothing to worry about. As we utter our prayers for hope, let's continue to believe in God. 
A Hope for the Hopeless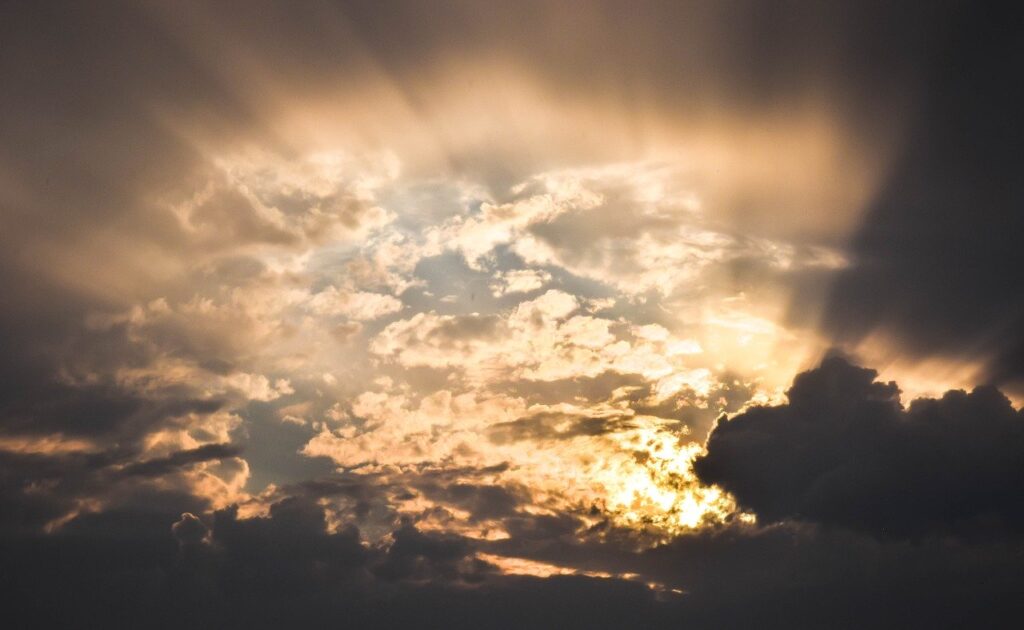 The shattering noise of despair, frustrations, restlessness, and fear often drown us when we face different hardships. These noises hinder us from hearing God's word clearly. But, we shouldn't let the enemy take over our minds and hearts. During those moments where we feel alone in our battles, is when we should allow God in our hearts and minds most. Don't be afraid to cast all your burdens on God. He cares for you and He will not leave you. God is our mighty fortress and refuge. Let our souls be anchored with him. In his presence, we are safe. He is our help in times of trouble. He gives us a promise of hope, security, strength, guidance, and victory. And because He is a faithful God, we can have an assurance that he will keep his word (Hebrews 10:23).
Let these prayers for hope give us light in times of darkness. As God helps us in our struggles, let this be a season for us to strengthen and deepen our personal relationship with him. When you pray a prayer for hope, you are asking God to restore your hope. Know that our prayers are the powerful weapon we have during this time. Whatever word we utter in our prayers, God is looking at the status of our hearts. Let God's love be a reminder to us that we have abundant hope in Him.