What Does God Say About Marriage?
Marriage is one of the things that Christians tend to misunderstand. When you ask a couple the reason why they get married, most may answer like this; "To be happy" or "Because we fell in love". Those reasons could be why some marriages fail.  When its no longer comfortable and happy, they want to get out. But what really is the purpose of marriage according to the one who created it? In all situations couples face, they can always pray a prayer for marriage.
In the Book of Genesis, God created the first man and woman, Adam and Eve. He created them according to His image and blessed them abundantly (Genesis 1:27). The God of heaven and earth then commanded them to be fruitful and multiply. Here, we can then see that their union was made to fulfill God's commandment and purpose. When they've reached adulthood and marry, both men and women will leave their parents to become parents themselves.
Genesis 2:24 That is why a man leaves his father and mother and is united to his wife, and they become one flesh.
Furthermore, the direction on marriage given by God in the Bible is clear. By leaving their families and uniting together, a husband and wife will be counted as one flesh. Regarding our spouse as valuable as ourselves makes us think more about their well-being. We will value their feelings, emotions, opinions, and safety. 'This is because, if God commanded us to love our neighbor, then how much more should we love our spouse?
Hebrews 13:4
Marriage should be honored by all, and the marriage bed kept pure, for God will judge the adulterer and all the sexually immoral.
God created marriage. He made this union with a holy purpose and anyone who defiles it will face His judgment. Many verses about adultery and sexual immorality can enlighten us about the consequences of this marital sin. It doesn't matter if divorce is legal in one country or not in another, God's law is absolute and never-changing.
How Do I Bring God Into My Marriage?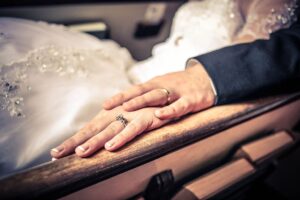 1 Corinthians 16:14 "Let all that you do be done in love"
We are different from our partners. Both raised in different ways, we grew up in a different environment which cultivated our beliefs and principles. No matter how long you know each other, you will still make different adjustments as you live together. Adjusting may seem easy, but it's actually a hard feat. Sometimes, even if we love someone with all our hearts, there are things about their behaviors that we can't let go of. And that's where some problems begin.
Pride, ego, dishonesty, unfaithfulness, and lack of communication are some of the reasons why marriages fall apart. To conquer these negative feelings in a marriage, we should place God in the center of the marriage. The Book of Corinthians describes to us how our love should be. We should try to work for our differences and pray that God will guard and guide our hearts.
Praying together and sharing their faith in God will help a couples' spiritual growth. It will make them stronger, enabling them to face marital challenges with love and courage. Making God the center of our marriage is one way to keep our married life happy and full of bliss.
How Do I Pray For Marriage Restoration?
In a marriage, there may be times where we will commit a sin against the other; and it is completely normal. Disagreements and broken trust can make the marriage shaky and distressing. When it feels tiring to fix all your problems, take a rest but don't quit. When emotions have calmed down after a disagreement, try to take little steps backward and solve the problem as a team. In this way, you will improve and strengthen your marriage.
1 Peter 4:8 "Above all, keep fervent in your love for one another, because love covers a multitude of sins"
In the heat of the moment,  forgiving and understanding each other may seem impossible. However, you can always talk to God about it for praying is your best solution. In the verse above, it says that love covers a multitude of sins; but it doesn't mean that our love for each other will be enough. Its the love of God that can restore anything that's been broken. A prayer for marriage can mend a relationship and make it seem brand new. It is important to pray regularly to grow your love for God and for each other.
Prayer For My Marriage
God should be the foundation of all marriages. We should let him take over our marriage and our relationship with our spouse. The prayer below is a good example of a prayer for marriage.
Dear God, we thank You for the gift of marriage and for being the source of love. May our union be known by Your love. We pray that our actions toward each other would be an example of Your sacrifice and a result of Your presence. God, we give You permission to invade our home, take over our thoughts, and direct our paths. Be our strength when challenges come and remind us that it is the manifestation of Your Spirit that holds our union together. We ask that You give us the discipline we need to seek You daily and the boldness to live out Your plans. Abide in us. We rely on You and we are grateful for Your presence in our lives. We are fully dependent on Your presence and desire for our lives to be the evidence of Your love.
-Tony Evans
Prayer For Your Wedding Day
Matthew 19:6 Why they are no more two, but one flesh. What therefore God has joined together, let no man put asunder.
Our wedding day is the beginning of our journey in marriage; a major change in our lives. It is the start of a new life with the one we love. Your wedding day is the day where you and your partner will exchange vows in front of your loved ones and in front of God. That's why prayer for marriage is important on this very special day.
A Prayer For The Bride:
God, please give me guidance to make a successful marriage. You've called us into certain roles and right now they sound impossible. However, your word says that with you, all things are possible. I pray this prayer from this day forward to release the power of your Holy Spirit into this marriage. Please do as You have promised in Ephesians 3:20 —to do immeasurably more than we can ever ask or imagine. I know and trust that You will do whatever we ask in Your name because you have promised this in Your Word.
You call a wife to submit to her husband, the very same way a husband submits to his wife in love.  As a wife, You call me to love and be faithful to my husband, not to blindly submit in a subservient way. Please help me to do what you require of me as a loving wife as an act of submission to You. This seems impossible now because of the circumstances I face today. But, God, I believe You alone can change my heart to submit to Your plans in my marriage. Remove anything in my heart that would keep me from honoring Your word about marriage.
Remove any thoughts that would contradict Your perfect will for us. You call us to respect each other. There is so much pain and hurt that seems impossible. But, God, I ask You to fill my mind and heart with whatever is pure, whatever is lovely, and whatever is beautiful about our marriage. Remind me of why I first fell in love.
A Prayer For The Groom:
God, You've called a husband to love his wife as Christ loved the Church. Father, give me a love for my wife that is like the love You have for the church; pure, unconditional, patient, gentle, not judging, not self-seeking. Help me to forgive any hurts with a loving heart and to always see the best in her. Let me love her unselfishly. Teach me how to nurture and cherish her, to respect her. Help me to not complain or argue. Make the words of my mouth be only what is helpful and good. Give me a discerning spirit to know her needs and give me the heart to want to meet them.
-Tony Evans
Prayers For Blessing In Marriage
Proverbs 18:22 Whoever finds a wife finds a good thing and obtains favor of the LORD.
Praying for blessings in a marriage should be done together by a couple. They should both hope and pray for their marriage with the same goals and heart for the marriage. Because God considers a married couple one body, their prayers for blessings should be united. Here's a prayer that you can say with your spouse:
Father, You have told us clearly that some things are more important than others. And next to our relationship with You, our marriage comes second. Help us to seek You first in all things; align our lives and marriage covenant under you. Help us to make our commitment to each other an important part of our relationship. We pray that we would be on the same page about every decision that we make. Please help be in line with Your plan for our lives and guide us on the right path.
We also ask that You give us supernatural wisdom to pass on activities and commitments that lead us away from Your kingdom agenda and that we would seek your counsel first, not looking to the opinion of others before we have clarity from You. Thank You for Your promise that we will benefit by putting You first. Help our walk to match our talk. Amen.
Prayer For Troubled Marriage
Malachi 2:16"For the man who does not love his wife but divorces her, says the Lord, the God of Israel, covers his garment with violence, says the Lord of hosts. So guard yourselves in your spirit, and do not be faithless."
Trouble in marriage can't be helped.  But, our Father in Heaven can help us sort out our problems. During times where everything seems to be falling apart, cling on to God and let Him mend all wounds. However, restoring a marriage will take more than merely asking God to fix everything. Our hearts should be ready to humble down in front of God. We should be ready to admit all of our mistakes and shortcomings in the relationship.
Without the complete repentance and submission to God's grace, anything won't work. Even a prayer. This prayer can be a great start to fix a troubled marriage.
Father, forgive each of us for our parts in what brought us here today. Create in us clean and pure hearts. Show us where we have been wrong. Break our hearts and make them tender to see our faults, our selfishness, our self-centeredness, and our critical spirits. Give us a spirit of humility to allow You to begin Your work in us. Eradicate all pride so You can come in and transform the brokenness and make it whole. Help us surrender our will to Yours. Help us lay on the altar anything that will get in Your way, show us those things and make them clear.
Let your refining fire purify those places so we can begin to reflect You as we deal with each other. Thank You for Your promise that if we confess our sins, You are faithful and just to forgive them and purify us from all unrighteousness. We claim that promise for ourselves right now.
-Wendy Blight
Prayer For Marriage Restoration
1 Peter 3:7 Likewise, you husbands, dwell with them according to knowledge, giving honor to the wife, as to the weaker vessel, and as being heirs together of the grace of life; that your prayers be not hindered.
The concept of divorce is that we cannot fix what's already broken. And that's correct. We can't fix a broken marriage. This is especially when trust and love have been severely damaged. When both parties have mutually decided that they can't bear to be with each other anymore, divorce is then a solution.
The thing is, we rely too much on ourselves. We try to fix something that we can't see.  If you are deeply hurt by your spouse, only the Lord Almighty can help you recover from it.  The God of impossible can do things that we can't imagine. He can help in healing the wounds we think can't be amended anymore. This prayer for marriage restoration can be you and your spouse guide to a better start for fixing your marriage:
"God, we know You will honor our marriage only when we stay under the covering You provide in Your Word. Give us the unity of heart and spirit through Your Holy Spirit. Whatever breach of honor, trust, or respect we have had in the past, we come to You together, confessing and repenting in complete humility, asking for Your forgiveness and healing. Bless us with Your richest blessing that as a couple we will together know how high and wide and deep and long is Your love for us in Christ Jesus.
We ask that from Your Glorious storehouses of riches You will make beautiful what has been dark and raw and hurting. Thank You that from this day forward we recommit this marriage to be rooted and established in Your deep and abiding love, the love that surpasses all knowledge.
From this day forward, we pray that we will live a life worthy and live out a marriage worthy of You, Lord. Give us great endurance and patience. Fill us with Your joy so that when we have hard days, we can look beyond the circumstances and remember the promises made in You. Keep our eyes on You and not on our faults and our circumstances. Remind us that we model You to our children.
Help us to be living sacrifices to You, giving up our own desires to accomplish Your greater purposes for this family."
-Wendy Blight
Prayers To Remove Negativity In A Marriage
Ephesians 4:29Do not let any unwholesome talk come out of your mouths, but only what is helpful for building others up according to their needs, that it may benefit those who listen.
When negativity enters a marriage, things will start to fall apart. That is why at an early stage when negativity can be recognized, it is important to drive it away. The married couple should address is quickly to prevent other problems that it may cause in the future. One great way they can drive negativity away successfully is by saying a prayer for marriage.
God establishes a family and Satan wants to destroy it as much as he can. Therefore, he will use negativities to destroy your marriage. We must combat Satan's moves by praying and holding on to our faith in God. Here's a prayer for marriage that you can pray with your spouse.
Lord Jesus, the enemy wants nothing more than to slowly erode the strength of our union. He wants to divide us over our differences, our perceived weaknesses, and our varying interests; to pull away from each other and create a division between us. He knows that if we are unaware of his actions, he break our marriage that you have blessed. However, we give You access and authority into these areas in our life and we ask that Your grace be the bridge for any divide in our marriage that already exists and that
Your perfect love would bind us together in peace. We invite Your presence into our home and pray that it produces the type of harmony that results in the oneness of purpose. May we be one together and one with You as we submit to Your purpose for our marriage. We give You thanks in advance for the peace that will exist in our marriage, even in the changing circumstances.
Prayer For Forgiveness In Marriage
It is human nature to sin. The weakness of our flesh will make it hard, but the Lord commanded us to forgive our neighbors as many times as God forgives us (Matthew 6:14- 15). The same thing should be done, especially towards our spouse. We should look back at the reason why we chose to commit ourselves  to him or her. Ask God to show the things that made you agree with your partner. Pray that our hearts be open to forgiveness for the person we swore to love for better or for worse.
Lord, though we fail You over and over again, You are patient, gentle, and kind toward us. Thank You for Your faithful hand that leads us back to Your love and Your forgiveness and compassion that never runs out. May we live as a reflection of You, that may we deal with each other and those around us with compassion and gentleness. Teach us to forgive those around us as You have forgiven us. Guard our hearts so that we will not allow resentment to build or unforgiveness to linger.
Help us to extend grace and walk in humility as we acknowledge our need for Your constant flow of it in our lives. Help us to be a source of encouragement and replace condemnation with love and forgiveness. Amen.
-United Prayer International
Prayer For Joy In Marriage
Mark 10:8 And they two shall be one flesh: so then they are no more two, but one flesh.
When God created the first man and woman, He intended them to rely on each other and to live with joy. This joy should be present in all marriages because God wants us to be happy. It is important to pray for you and your partner's happiness in marriage. Keeping a close relationship with God will make the joy of the Lord present in a relationship. Through a prayer for marriage, God can also restore the joy that has faded between a couple.
"Almighty and eternal God, You blessed the union of married couples so that they might reflect the union of Christ with his Church: look with kindness on them. Renew their marriage covenant, increase your love in them, and strengthen their bond of peace so that, with their children, they may always rejoice in the gift of your blessing. We ask this through Christ our Lord. Amen."
-The Goretti Group
Prayer For Everlasting Love in Marriage
Ephesians 5:33 Nevertheless let every one of you in particular so love his wife even as himself; and the wife see that she reverence her husband.
The very first thing that we consider when getting married is love. We may define love in a different way it manifests in the same way. It gives us the strength to overcome hardships together and hope that our love can save us at the end of the day. However, love will not work without trust, understanding, loyalty, and communication.  Because of this, we should ask God to help us work in those aspects. Hence, we will be able to keep our love endless and our marriage full of it.
Lord Jesus, we thank You that You have given us to each other in marriage and we pray that Your plan for us to be one flesh would be expressed in every area of life. Starting with our vows and commitments to each other, we pray for purity. We pray that we would honor each other completely and that we would put each other's needs in front of our own. Lord, grow a trust relationship between us that would be unbreakable. We pray that when others look at us they would see You in us and a closeness in our union that doesn't come from the world. Reveal any false intimacy in our relationship and replace it with exactly what You had in mind when You created us for each other.
[Husband]
Father, help me to love my wife as You love me and to give up even my life if You call me to do so. Until then, help me to die to any selfish way that would keep my wife from trusting and following me as I follow You.
[Wife]
Lord, help me to respect my husband and trust that he has the good of our family in mind with every decision he makes. Help me to follow him as he follows You. Make us one as You are one.
-Tony Evans
Prayer To Bring Each Other Closer
Colossians 3:18-1 Wives, submit yourselves to your own husbands, as it is fit in the Lord. Husbands, love your wives and be not bitter against them.
When two people get married, God considers them as one; in flesh and in spirit. They should be as close as possible to each other. To be each other's strength and refuge. Being closer means letting God work for the best of the union.
"God, it is our heart's desire to submit our lives to You. We come seeking You for wisdom and asking for Your guidance. We know that it is impossible without Your help. Teach us what it looks like to personally die to ourselves daily in order to walk in full submission to You. We know that we cannot resist the traps and tricks of the enemy without You.
So we ask that You draw us into Your presence. We long to know You and to obey Your Word. Trusting that what You have for us is beyond anything we could ever imagine or earn, we surrender our will to Your way. We bring every area of our lives under Your authority and acknowledge You as Lord over our lives and all of creation."
-Wendy Blight
Prayer For Trust And Understanding In Marriage
Ephesians 4:2-3 With all humility and gentleness, with patience, bearing with one another in love, eager to maintain the unity of the Spirit in the bond of peace.
Trust and understanding, are some of the things that make a marriage work. Without it, the relationship between the couple and their family, in general, will not be smooth sailing. So, to make it work, we should always ask God to help us build our trust in our spouse and to be an understanding partner. Here's an example of how to pray for trust and understanding.
Lord, You have called me to live with all humility and gentleness, to be patient and tolerant, and to preserve unity and peace. Sometimes I am able to do this more easily with others than with my spouse. But, this shouldn't be. I should be more humble, gentle, patient, tolerant, and peaceful in my marriage than any other place. But sometimes familiarity breeds contempt—or at least complacency. Please keep my spirit alive and fresh with regard to my marriage. Also, please help me to live in an ongoing attitude of gratefulness for my spouse. Let love be the defining atmosphere in our home.
I also pray for wisdom, God, on how best to cultivate peace in my marriage and home. I ask for wisdom about our schedules, entertainment choices, and work. Give us wisdom on how to interact with each other so that we promote peace between us. Place a guard over my mouth when I feel the need to say something that does not stem from a spirit of humility, gentleness, and peace.
God, You have brought us together in this marriage for Your purposes, and every day, every hour, we need Your hand to make us as useable to You as You have desired. Also, remind us of the power of peace. Remind me of the power of patience. Help us to honor each other and not take each other for granted. In Your name, amen.
Prayer For Unity In Marriage
Colossians 3:14 "Beyond all these things put on love, which is the perfect bond of unity"
In Colossians, the only thing that will bind a couple perfectly is love. The love between a couple will synchronize their decisions. Their faith in God will let them listen to His guidance. To love in peace and unity is to work together despite our differences. Love is also not a feeling but a decision we all have a choice to make. God gives us what's best for our lives. Adhering to His words will make sure that our marriage and relationships are on the right track.
Amos 3:3 Can two walk together, except they be agreed?
Praying for unity in a marriage will require actions like most prayers do. God can do His work in us if we surrender to Him,  and trust in His will. We also need to have the willingness to accept the outcome of the situation even if it isn't what we want. If married couples are considered to be one in front of God, then they should act in unison to get His blessing.
Dear God, we pray that we would be eager to maintain unity in our home. Teach us to bear with each in love in every circumstance we face. Thank You that in every decision and situation we have Your Word as our guide. In areas where the enemy tries to divide us, our finances, our careers, our time, our priorities, we pray that we seek Your will be done above our personal requests. Also, please replace selfishness with humility, resentment with compassion, anger with gentleness, and conflict with peace. Make us one, Lord, in every area and in every decision.
We submit our agenda for Your greater purpose. We let down our guard, surrender our desires and rely on Your strength to bind us together for Your eternal glory. Let our union also exude Your presence and grow in us as a testimony of Your faithfulness.
Prayer For Honesty In Marriage
In any relationship, there should be honesty for honesty is the best policy. It helps strengthen a relationship in truth. Being honest is, to tell the truth, which is an important part of Christian life and in a marriage.  God is the way, the truth, and the life (John 14:6). Here's a prayer you can pray to keep honesty in your marriage.
Dear Lord,
You are so gracious!  Thank you for your mercy and forgiveness.  I understand that my sin hurts you, but I also know that you are compassionate, that you redeem me, and that you fill me with righteousness.  I am forever grateful.  In my marriage, I am also aware that my sin hurts my husband.  I'm aware that it damages our relationship.  I am so sorry for not being enough to stop me from sinning. I pray that my husband will have grace with me and that I can have grace with him.  May we be honest about our sins so that we can pray for one another and keep each other accountable.  May your righteousness be evident in our relationship and may we humble ourselves to forgive, often, in Jesus' name amen!
-Unknown
Prayer  For A Couple's Health
Above all things, you and your spouse's physical well-being is the most important. This is because you are part of the body of Christ. When a couple gets married, part of their vows to each other is, "from this day forward, for better, for worse, for richer, for poorer, in sickness and in health, to love and to cherish, till death do us part". Here, they make a promise to be by each other's side for sickness and in health. Hence, it is why we should not only pray for our healths but of the health of our partner as well.
"Lord, thank You that You care about our whole beings; body, mind, and spirit. I pray that we would live lives and have a marriage of balance, seeking to be spiritually healthy, first, which will lead to stronger mental and physical health. May we challenge each other to live healthy spiritual lives individually and that our relationship with You would drive each of us closer to You and into a more intimate walk with Jesus.
We pray that we would sharpen each other mentally and that our activities and thought lives would lead to a stronger mental state to better discern and react to our environment around us. And lastly, we pray that we would honor our physical bodies, for each other and for our best service to You. Lord, may Your grace make up the difference where we lack health and may You multiply our health for Your glory and our good."
-Wendy Blight
The Struggle Of Abraham And Sarah
The story of Abraham and Sarah is well-known in the Bible. In their marriage, Sarah couldn't give Abraham a child. In a desperate attempt to start a family, Sarah told her husband, Abraham to sleep with her Egyptian maid Hagar (Genesis 16). Sarah hoped that through Hagar, she could start a family and Abraham would have a son. Sarah had also completely given up hope of having children because of their old age.
However, the Lord said otherwise for he had plans for Abraham. God sent three men to the couple to inform them that they will have a son (Genesis 18). Though Sarah didn't believe she could get pregnant at her age, God proved her wrong. He blessed the marriage of Abraham and Sarah by giving them their son, Isaac (Genesis 21).
Matthew 21:21 Jesus replied, "Truly I tell you, if you have faith and do not doubt, not only can you do what was done to the fig tree, but also you can say to this mountain, 'Go, throw yourself into the sea,' and it will be done.
God told us in the Bible that through faith, we can move mountains. Hence, we can make miracles if we just believe that God can work wonders that we think are impossible. Even blessing us with a child.
Prayer For Fertility
Heavenly Father, Thank you for granting me a good and faithful husband. We are lifting both of our souls and coming humbly to you as one. Lord, will you bless Your children with a child? I want to honor You, Father,  by being a mother who raises her children through your words to bear love, respect, and service to You. Fill my womb, grace me with pregnancy and deliver to me a healthy baby. Amen
-Unknown