Project Wittenberg
A Brief Statement of the
Doctrinal Position of the Missouri Synod

Of Creation
Commission on Theology and Church Relations
of the Lutheran Church--Missouri Synod

(St. Louis: Concordia Publishing House, N.D.)

[Adopted 1932]
---
To: This File/ Plain Text - LCMS Documents - Project Wittenberg
---
Of Creation
5. We teach that God has created heaven and earth, and that in the manner and in the space of time recorded in the Holy Scriptures, especially Gen. 1 and 2, namely, by His almighty creative word, and in six days. We reject every doctrine which denies or limits the work of creation as taught in Scripture. In our days it is denied or limited by those who assert, ostensibly in deference to science, that the world came into existence through a process of evolution; that is, that it has, in immense periods of time, developed more or less of itself. Since no man was present when it pleased God to create the world, we must look for a reliable account of creation to God's own record, found in God's own book, the Bible. We accept God's own record with full confidence and confess with Luther's Catechism: "I believe that God has made me and all creatures."
---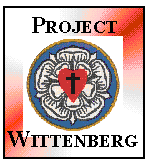 This text was converted to ASCII text for Project Wittenberg by Rev. Robert E. Smith and is in the public domain. You may freely distribute, copy or print this text. Please direct any comments or suggestions to:
Rev. Robert E. Smith
Walther Library
Concordia Theological Seminary.
E-mail: [email protected]
Surface Mail: 6600 N. Clinton St., Ft. Wayne, IN 46825 USA
Phone: (260) 452-3149 - Fax: (260) 452-2126
---
To: Next Section - LCMS Documents - Project Wittenberg
---