Winston Churchill once said "We shape our homes then our homes shape us" – a quote I believe that resonates with many. Home is not a mere place of residence nor is it a simple roof over our heads. Home is a lived and living experience. It is where some of our most intimate memories are being formed and where our personalities grow. It is a place that many will carry in our hearts for generations. Hence, house blessing prayer is important to ensure that our homes are spiritually pure to protect us against the demon's foothold on us. The power of our prayer is one of the greatest blessings from God. Therefore, we do not need to fear as we pray for spiritual coverage over our homes.
However, our house blessing prayer should also include praying for the people living and visiting such that our house is a righteous home, a beacon of love, hope, and rest. After all, God curses the house of the wicked but blesses the house of the righteous (Proverbs 3:33). Let's learn how to bless a house and challenge ourselves today to understand house blessing in a new way. Here are 15 house blessing prayers for you and your loved ones:
1. A House Blessing Prayer
A home blessing prayer is essential. Regardless of whether it is a new home or a current one, we encourage everyone to bless their homes through prayer.
Lord, we give thanks for this house that You have provided for us. May You sanctify this house so that we may set it apart to use for Your glory. May this house become a holy temple of Yours and Your name be praised within these walls all day and night. We ask in reverence that Your will be done in this house. This house and household will serve You for all our days. Thank You, Lord, for blessing this house, Amen.
2. A
Prayer for House Blessing and Protection
When we pray, it is important to say a prayer for house blessing and protection. Ask God to bless us your home in this house blessing prayer, seeking His protection from all evil.
Dear Lord, we thank you for giving us this house. May You bless and protect this house from any evil presence. Leave no opportunity for any evil presence to take root in this house, Lord. Instead, let Your presence fill this house that we may prosper as a family with Your blessing. Watch over and us be our shield Lord, Amen.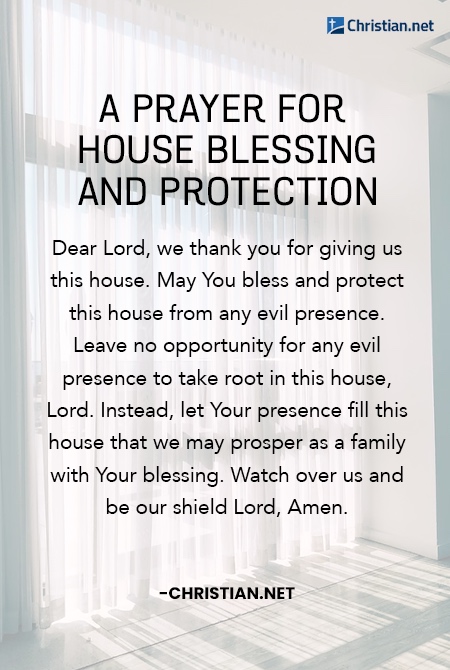 3. A
Prayer for Cleansing and Protection
for A New Home
Every time you move into a new house, we highly encourage you to pray for cleansing and protection. In this house blessing prayer, pray that the Lord reigns sovereign over your home and protect it.
Our Father in Heaven, we thank You for blessing us with a new house. We ask the Lord that whatever evil presence may be in this house, in Your Holy Name it will be removed! In Your Mighty name, all things unclean and unholy in Your sight will vanish and all that is left is You, God. We pray that You reign sovereign over this home Lord. Amen.
4. A
Prayer of Blessing for A New Home
Here is a simple prayer of blessing that you can use for your new home:
May the Lord Father in Heaven bless this new home. May this new home be cleansed and protected from any evil presence. Let every room and space in this home be filled with the Holy Spirit. May the Lord be the master of this home. May this home be a sanctuary that glorifies Your Name. Amen.
5. An Anointing Prayer for Your Home
In Isaiah 55:12, God teaches us to pray for everyone that passes through the front door will 'go out in joy and be led forth in peace.' Pray this anointing prayer for you and your loved ones.
Dear God, in this anointing prayer I ask that You lay Your sovereign hand on this house. Bless everyone that passes through the front door that they may be a beacon of joy everywhere they go and the spirit of peace flows from them. Be with them wherever they go, Amen.
6. A Blessing Prayer for Bedrooms
Bedrooms are one of the most important parts of the house because it is the most intimate space of ours and where we retreat for the day. In your house blessing prayer, remember to pray for blessings over your bedrooms.
Dear God, we thank you for these bedrooms and warm beds that You've blessed us with. We thank You for Your providence. We pray that in our bedrooms, we can connect with You intimately. Also, when we end our days lying in bed, we ask that You bless us with good rest. Even as we dream, let be dreams of You. In Jesus' name, we pray, Amen.
7. A Blessing for the Living Room
Here is a simple house blessing prayer for your living room:
Our Father, we want to surrender this shared space into Your hands. We pray that this space will be used for Your glory. All conversations and activities in this area will be holy and pleasing to You. May our words be life-giving and full of grace as we share Your word and love with visitors in this home. Bless this space for Your use Lord. Amen.
8. A Blessing for the Kitchen and Dining Room
Blessing your kitchens and dining rooms may seem a little strange. Nonetheless, our prayers will never be too weird or strange for God. He wants to hear all of our prayers.
Lord Father, I want to pray for this kitchen and dining space in my home. I pray that the utensils that we use and the food that we cook will not cause any physical harm to our bodies, for our bodies are Your temple and living sacrifices. May all that we do in these spaces be holy and pleasing to You. Amen.
9. A Prayer for the Lord's Presence
A prayer for the Lord's presence to fill our house is an important house blessing prayer. As stated in Joshua 24:15, this verse reminds us that our house is a blessing and thus the members of the household should all serve the Lord. Hence, let us welcome God to be the lord and master over our home.
Father, we ask of You today to be the Lord of our home. Let Your presence be felt in every room and everyone who lives here will be touched by Your spirit. Bless our home with Your presence today that this house may become an altar to worship and give You praise. Thank You, Lord, Amen.
10. A Prayer for Guests visiting
A house blessing prayer that we tend to overlook is praying that our homes can be a place of refuge for any guest visiting. Pray that when they visit, our guests leave filled with love and the Spirit.
God, I would like to entrust this home into Your loving hands. Make this home and this household a beacon of hope and love for our guests. Bless everyone who enters our doors that they may feel Your presence with them in this house. Teach us to also have compassion so that our house may be a refuge for them as well. Thank you, Lord, Amen.
11. A Prayer for Safety at Home
Apart from our guests, let us also pray that our home is a safe place for anyone in our household to live in, both spiritually and physically. For it is written in Hebrews 3:4 that even if a house is built by someone, God is the builder of all things. Let us say this house blessing prayer today:
Dear God, I ask for Your mighty hand to be upon everyone in this home. I pray that there will be no physical damage to this house such that no physical harm will come to anyone in this household. I also ask that Lord You be our shield. Guard our hearts and keep us safe spiritually. We ask all these in Jesus' name, Amen.
12. A Prayer for Love at Home
Amongst all that God has commanded us to do, the greatest of all is love (Corinthians 13:13), because God is love. Here is a simple prayer to ask God to fill your home with love:
Father, living together as a family can be tough at times. I pray that this house will be filled with Your love that we may interact with one another in love and respond in love. Help us to honor You by showing love to one another and to anybody that visits this house. In Jesus' name, Amen.
13. A Prayer for a Joyful Home
Here is a quick prayer to ask God to fill our homes with joy:
Father God, we come to you today to ask that this house be filled with the Spirit of Joy. For You reminded us that in all circumstances, we should always rejoice for You are good. We pray that even after a hard day at work when we enter our home we will become joyful again. May You bless this home with joy Lord, Amen.
14. A Prayer for a Peaceful Home
Another quality to pray for your home to emanate is that of peace. After all, homes are designed to be secure dwelling places with undisturbed rest (Isaiah 32:18).
Dear Father in Heaven, I thank you for blessing me with this home and this household. I pray that as we live together, may You continue to work within us to live peacefully together. In times of disagreement, I pray that Your Spirit of peace will fill this house to bring peace into our hearts. Bless us with peace and harmony. Amen.
15. A Prayer for Unity at Home
Finally, pray for unity over your homes. When you do, watch how God can bless your home greatly.
Father, we come here to seek Your guidance towards unity. We pray that whatever happens within this home, we remain strong and united in You. No amount of conflict or disagreement can pull us away from You, and thus, from one another. We ask that everyone in this house remains united spiritually so that this home can reflect Your holiness. Amen.