It's the most wonderful time of the year! Are you excited to attend some Christmas parties? Or maybe open some gifts? It's certain that your answers to these questions are "Yes!". But wait, what's the main reason we celebrate Christmas? The word "Christmas" comes from the words "Christ" and "mass". Christmas or Christ's mass is the day we celebrate the birth of Jesus. And the joy on this day should be because the Savior has come; not for worldly pleasures. Some of us get drunk and overwhelmed by the festivities of this season, so much that we forget why it should be celebrated. As Christians, we should be first to remember the true meaning of Christmas. Listed below are some inspiring Christmas Bible verses that will bring joy to us all this season!
Christmas is one of the most awaited holidays by people around the world. Religious or not, who would say no to parties, sumptuous dishes, and gifts?. In fact, even countries with the least number of believers acknowledge and celebrate this day. However, Christmas is not just any other celebration. It is an important highlight of Christianity in which the savior of the world, Jesus, was born. In this season, we thank God for His grace that and love for us. Though we are undeserving of compassion, God still chooses to shower us with gifts of love and mercy. Despite our sins, God gave us His son who was born on Christmas day. If you're searching for the perfect Christmas verses for holiday cards, look no further. We've compiled a list of some of the best ones.
What is Christmas In The Bible?
There is no circumstance nor passage in the Bible that bears the word "Christmas". Different Christian denominations have different opinions regarding the scriptural annotation of celebrating Christmas. Some believe that Christmas should not be treated as a Christian holiday, while most believe that it should. This is because, even though it is not the actual day of Jesus' birth, Christmas Day is chosen to represent the day of His birth. Those who believe Christmas should not be treated as a Christian holiday, support their argument with the origins of Christmas and how the date was picked as Christ's birthday. They argue that it should be considered as a pagan tradition. Meanwhile, other religions have accepted and adopted the Christmas tradition. Though it is not mentioned in the Bible, celebrating the birth of our Savior is not a bad idea.
Jesus' birth shows us the virtues we should possess. For example, we should have humility, for even the poorest king is given the best conditions possible for their birth; but the King of the world and Son of God was born in a stable and laid in a manger; a place where animals were kept. Additionally, it was also symbolic that the first people who heard the good news about Jesus' birth were shepherds. This is because we can read in the Bible that Jesus was also called a good shepherd!
Christmas Bible Verses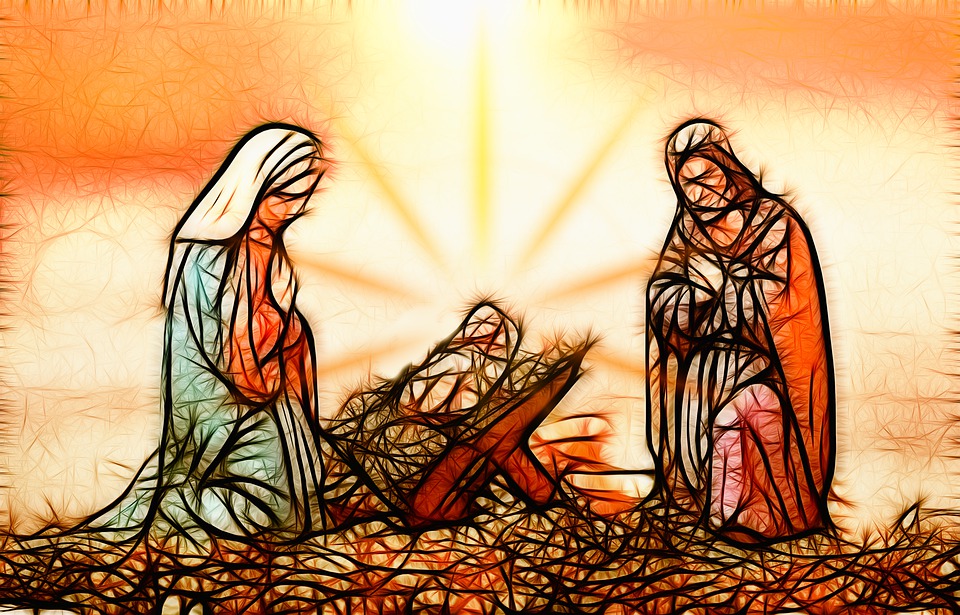 To make Christ the center of this celebration, we should ponder on the words of God. Christmas may be the best time to catch up with family, friends, and relatives. It can also be a time where we give gifts to show the people that we love the depth of our love for them. And this act is perfectly fine because love is one of the things that God wants us to remember especially with regards to Christ's birth (John 3:16). But above all these Christmas traditions, it is the best time to think deeply about our faith. Through reflecting on the meaning of this season, we will be able to strengthen our faith; be the tool for our loved ones to understand the meaning of Christmas. Listed are the best Christmas Bible verses to help you and your loved ones know the meaning of Christmas.
The Gospel of Christmas
Jesus' birth is the beginning of the gospel. It is the "good news" as what the Bible declares it to be. The gospel of Christmas is the gospel of truth revealed in the New Testament of the Bible.
John 1:14 And the Word became flesh and dwelt among us, and we have seen his glory, glory as of the only Son from the Father, full of grace and truth.
Zechariah 13:1 "On that day there shall be a fountain opened for the house of David and the inhabitants of Jerusalem, to cleanse them from sin and uncleanness.
1 John 5:11 And this is the testimony, that God gave us eternal life, and this life is in his Son.
Matthew 6:33 But seek first the kingdom of God and his righteousness, and all these things will be added to you.
Matthew 10:42 And whoever gives one of these little ones even a cup of cold water because he is a disciple, truly, I say to you, he will by no means lose his reward."
John 1:9-10 The true light, which enlightens everyone, was coming into the world. He was in the world, and the world was made through him, yet the world did not know him.
Luke 2:12 And this will be a sign for you: you will find a baby wrapped in swaddling clothes and lying in a manger.
Acts 5:31 Him hath God exalted with his right hand to be a Prince and a Savior, for to give repentance to Israel, and forgiveness of sins.
Bible Verses About Christmas Foretold In The Old Testament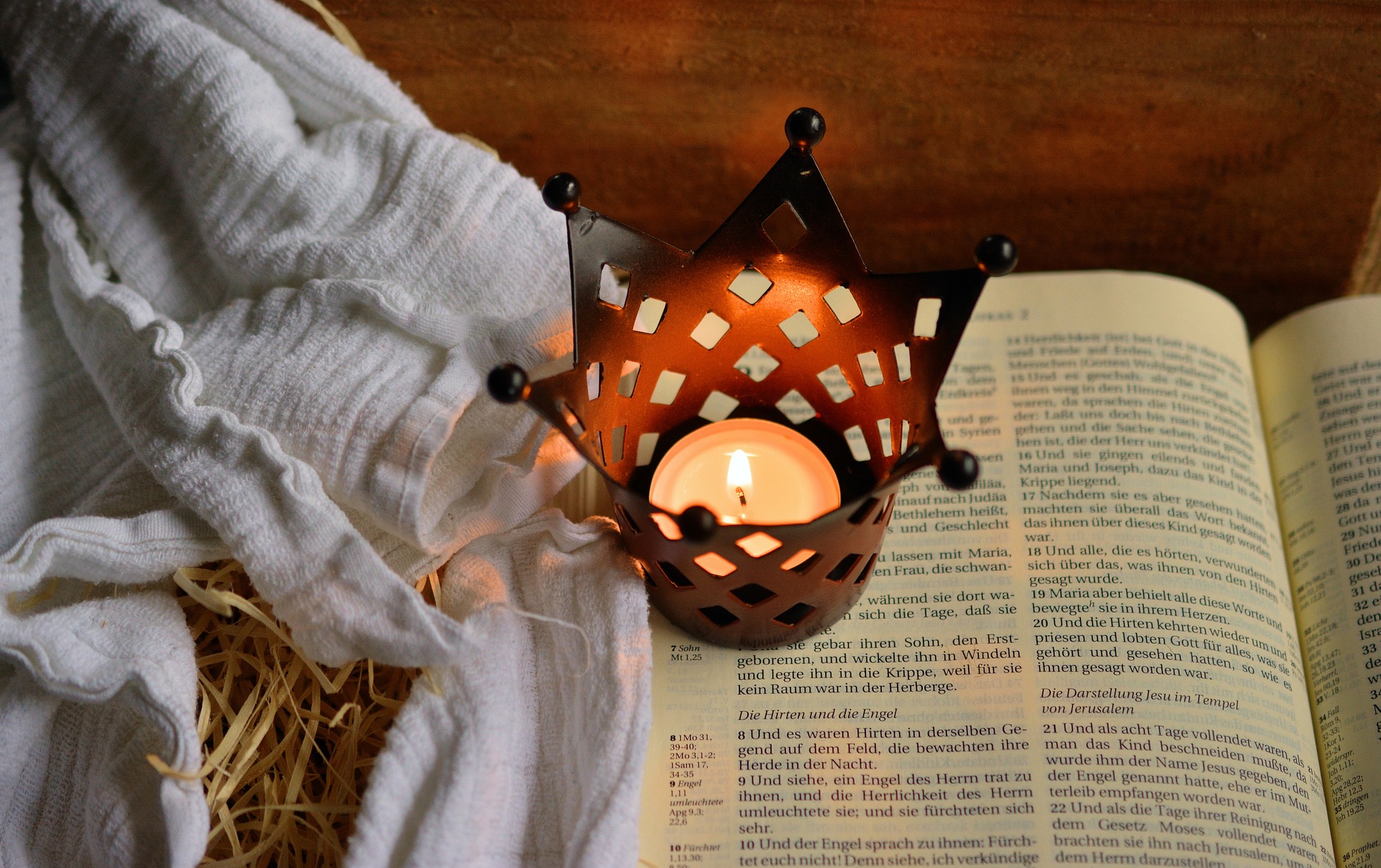 Jesus' birth was long foreseen by the prophets from the Old Testament. Their accounts prove the authenticity of Jesus as the promised messiah. His birth matched accurately to the predictions that were made hundreds of years before He was born. And the probability of someone fulfilling all prophecies of made throughout decades is almost impossible. That is why Christmas is truly marvelous.
Isaiah 9:6 For to us, a child is born, to us, a son is given; and the government shall be upon his shoulder, and his name shall be called Wonderful Counselor, Mighty God, Everlasting Father, Prince of Peace
Isaiah 7:14 Therefore the Lord himself will give you a sign. Behold, the virgin shall conceive and bear a son, and shall call his name Immanuel.
Jeremiah 31:31 "Behold, the days are coming, declares the Lord, when I will make a new covenant with the house of Israel and the house of Judah
Isaiah 11:1 There shall come forth a shoot from the stump of Jesse, and a branch from his roots shall bear fruit.
Micah 5:2 "But you, Bethlehem Ephrathah, though you are small among the clans[a] of Judah, out of you will come for me one who will be ruler over Israel, whose origins are from of old, from ancient times."
Isaiah 12:6 "Shout aloud and sing for joy, people of Zion, for great is the Holy One of Israel among you."
Inspiring Christmas Scriptures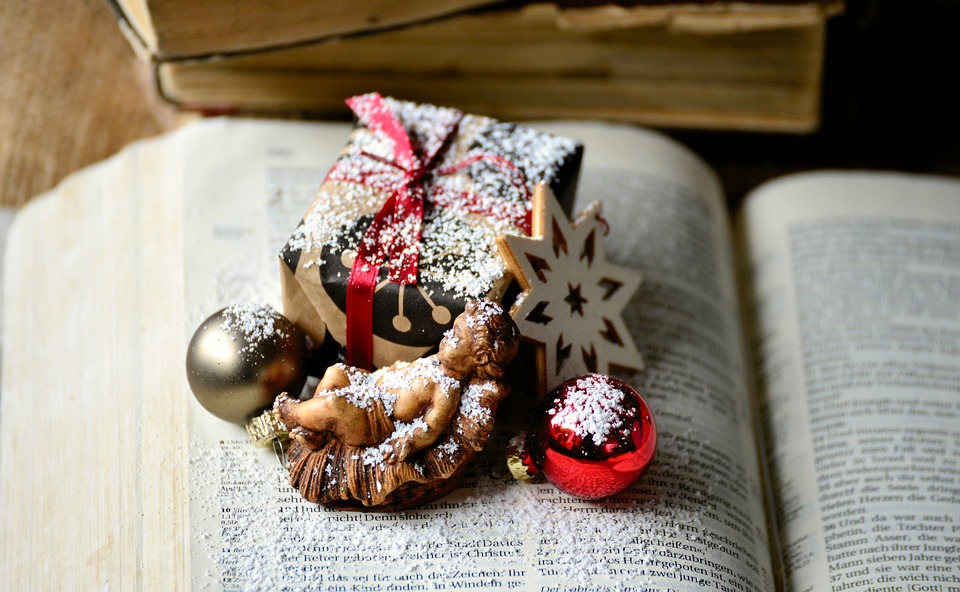 Christmas brings us joy and peace. Jesus was the best gift that God has given to the world. This is the reason why giving gifts is a part of celebrating Christmas. When Jesus was born, the world was given new hope and salvation. And later when the time came, He again gifted Himself to us as a sacrifice on the cross. He knew how painful it would be, yet He chose to follow God's will. That is why the Bible said that the greatest act of love that one can do is laying down one's life for his/her friend, just like what Jesus did for us.
John 3:16 "For God so loved the world, that he gave his only Son, that whoever believes in him should not perish but have eternal life.
James 1:17 Every good gift and every perfect gift is from above, coming down from the Father of lights with whom there is no variation or shadow due to change.
Luke 6:38 Give, and it will be given to you. Good measure, pressed down, shaken together, running over, will be put into your lap. For with the measure you use it will be measured back to you."
Luke 12:15 And he said to them, "Take care, and be on your guard against all covetousness, for one's life does not consist in the abundance of his possessions."
2 Corinthians 9:10 Now He who supplies seed to the sower and bread for food will supply and multiply your seed for sowing and increase the harvest of your righteousness.
Christmas Bible Verse about Giving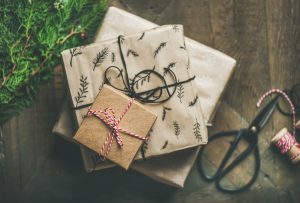 We can give tribute to the newborn King by doing good to our neighbors. Because as what the Bible says, when we help those who need it, we are also doing it to Jesus. Hence, we should be inspired to do good for Christmas. Christmas gifts remind us of the presents given by the wise men; Frankincense, Gold, and Myrrh. Each gift holds an interesting meaning.
Gold is associated with Kings and Christians believe that Jesus is the King of Kings. Frankincense is sometimes used in churches, showing that people would worship Jesus. And Myrrh is a perfume that's put on dead bodies to make them smell nice. It is this gift of myrrh that Christians believe the foreshadowing of Jesus' death.
Matthew 6:19-21 "Do not lay up for yourselves treasures on earth, where moth and rust destroy and where thieves break in and steal, but lay up for yourselves treasures in heaven, where neither moth nor rust destroys and where thieves do not break in and steal. For where your treasure is, there your heart will be also.
Hebrews 13:2 Do not neglect to show hospitality to strangers, for thereby some have entertained angels unawares.
Deuteronomy 16:17 Every man shall give as he is able, according to the blessing of the LORD your God which He has given you.
Proverbs 3:27 Do not withhold good from those to whom it is due, when it is in your power to do it.
Proverbs 21:26 …the righteous gives and does not hold back.
Proverbs 22:9 He who is generous will be blessed, for he gives some of his food to the poor.
Proverbs 28:27 He who gives to the poor will never want, but he who shuts his eyes will have many curses.
Is Celebrating Christmas Mentioned In The Bible?
The Bible has listed some accurate dates of both Biblical and historical events. However, it did not give the birthdate of Christ. Hence the reason why there are many debates and disagreements among Christians and Biblical scholars about whether celebrating Christmas is Biblically acceptable or not. If we regard it as a pagan celebration because of its origin, then, of course, it should not be celebrated. But disregarding the accuracy of the date and the origin of the celebration, Christmas is a celebration of Christ's birth. It is a festive event where people commemorate His birth and the things that it teaches us such as the value of sacrifice, love, and faith.
When an angel came to Elizabeth and Zechariah telling them about the birth of John the Baptist, the angel told them that many will rejoice because of his birth. For the reason that John will be used by God to pave the way for Jesus and baptized people in His name. If John's birth enough reason to rejoice, then the birth of the Messiah is a greater reason to celebrate. Although it's not stated in the Bible that Christians should celebrate Jesus' birth, it's still acceptable to celebrate His birth as long as we know why we are celebrating it. We should be like the shepherds who tell the world of His birth as a way of celebrating it.
Bible Verse About Christmas Celebrations
If we were to ask people what their favorite day of the year is aside from their birthday, many will answer the day of Christmas. Almost everyone is happy at Christmas and we can feel joy and happiness in the air. The celebratory vibe fills our hearts. But no one can imagine the joy of those who were there at Jesus' birth. However, the Bible verses below will give us a peek.
Matthew 2:11 And going into the house they saw the child with Mary his mother, and they fell down and worshiped him. Then, opening their treasures, they offered him gifts, gold and frankincense, and myrrh.
Zechariah 9:9 Rejoice greatly, O daughter of Zion! Shout aloud, O daughter of Jerusalem! Behold, your king is coming to you; righteous and having salvation is he, humble and mounted on a donkey, on a colt, the foal of a donkey.
Luke 1:14 And you will have joy and gladness, and many will rejoice at his birth,
Esther 9:22 As the days on which the Jews got relief from their enemies, and as the month that had been turned for them from sorrow into gladness and from mourning into a holiday; that they should make them days of feasting and gladness, days for sending gifts of food to one another and gifts to the poor.
Leviticus 23:40 And you shall take on the first day the fruit of splendid trees, branches of palm trees and boughs of leafy trees and willows of the brook, and you shall rejoice before the Lord your God seven days.
Luke 2.11 'This very day in David's town your Saviour was born — Christ the Lord!'
Bible Verses About Joy During Christmas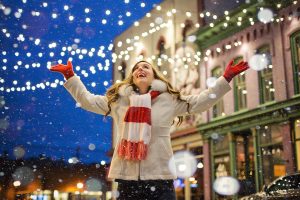 The spirit of Christmas can be felt through the beaming joy in our hearts. It is the happiness that comes from knowing that Jesus was born because God loved us so much. He wants to be with us for eternity. So through Jesus, God gives us a chance to be redeemed. The word "joy" is almost synonymous with Christmas. When the birth of Jesus was announced to the shepherds, the angel of God told them that he had brought news that will bring them great joy. And they rejoiced upon knowing that the King of the world was born and off they went to look for Him.
The Joys of Christmas
There is a saying that when we feel joy, we should share it for it to be doubled. The joy of Christmas is meant to be shared. We can do it by wishing others well, praying for them, and sharing with them the gospel of Christ. The Bible verses that we listed below will help us realize the joy of Christmas. The holiday season is the perfect time to express your joy, with Christmas Bible verses that are beautiful, uplifting, and heartfelt!
Luke 1:46-47 And Mary said, "My soul magnifies the Lord, and my spirit rejoices in God my Savior,
Romans 15:13 May the God of hope fill you with all joy and peace in believing, so that by the power of the Holy Spirit you may abound in hope.
1 Chronicle 15:16 David also commanded the chiefs of the Levites to appoint their brothers as the singers who should play loudly on musical instruments, on harps and lyres and cymbals, to raise sounds of joy.
Luke 1:30-31 And the angel said to her, "Do not be afraid, Mary, for you have found favor with God. And behold, you will conceive in your womb and bear a son, and you shall call his name Jesus.

Matthew 2:10 "When they saw the star, they were overjoyed."

Luke 1:14 "He will be a joy and delight to you, and many will rejoice because of his birth."
Bible Verse About Love And Christmas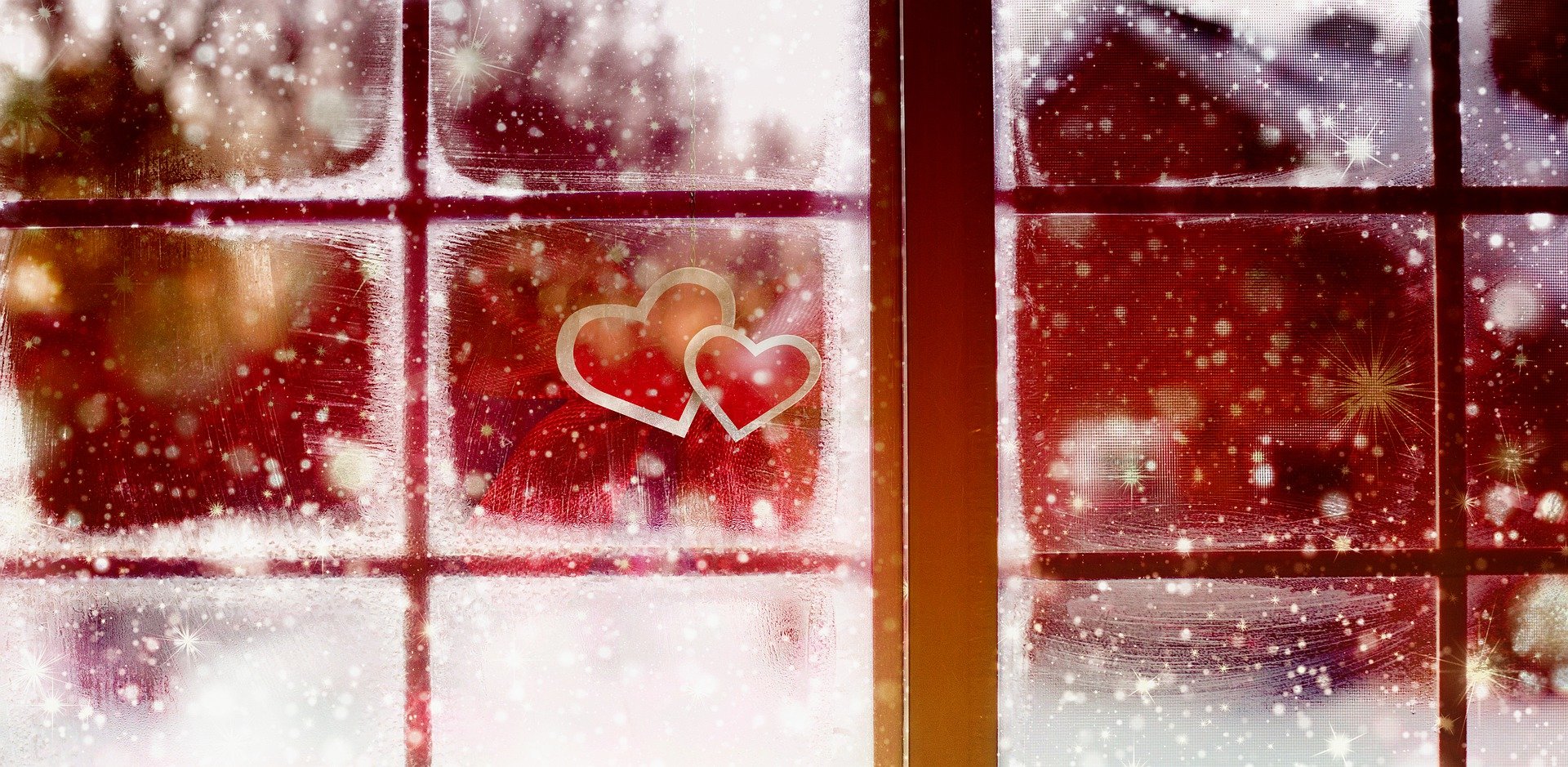 God is love. And God loves us so much so that we have Christmas as a commemoration of that great love. During Christmas, people around the world exhibit different kinds of love. It can be love for the family, love for the country, love for humanity, and most especially, love for God. Whatever kind of love you wish to give or receive, these Bible verses are perfect for you.
Acts 20:35 In all things, I have shown you that by working hard in this way we must help the weak and remember the words of the Lord Jesus, how he himself said, 'It is more blessed to give than to receive.'"
2 Corinthians 13:11 Finally, brothers, rejoice. Aim for restoration, comfort one another, agree with one another, live in peace; and the God of love and peace will be with you.
Luke 12:33-34 Sell your possessions and give to the needy. Provide yourselves with moneybags that do not grow old, with a treasure in the heavens that does not fail, where no thief approaches and no moth destroys. For where your treasure is, there will your heart be also.
Colossians 3:14-16 And above all these put on love, which binds everything together in perfect harmony. And let the peace of Christ rule in your hearts, to which indeed you were called in one body.
Luke 10:27 And he answered, "You shall love the Lord your God with all your heart and with all your soul and with all your strength and with all your mind, and your neighbor as yourself."
1 Corinthians 14:1 Pursue love, and earnestly desire the spiritual gifts, especially that you may prophesy.

1 Corinthians 16:14 "Let all that you do be done in love."
Bible Verses Perfect For Your Christmas Cards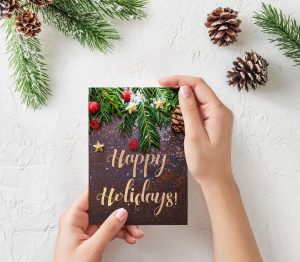 Giving gifts and exchanging cards completes our Christmas tradition. Exchanging Christmas cards is a well-appreciated gesture to give our loved ones warm wishes for the holidays. It is also a tangible way to let them know that their relationship means something to us. Christmas cards are a great way to make our loved ones feel happy and appreciated. It is also a good way to share with them why we celebrate Christmas. Giving away Christmas cards with Bible verses inside inspires people. It makes them feel your affection of love and happiness for them. Here are lighthearted Bible verses for your Christmas cards to spread love and joy.
Romans 6:23 For the wages of sin is death, but the free gift of God is eternal life in Christ Jesus our Lord.
Luke 2:14 "Glory to God in the highest, and on earth peace among those with whom he is pleased!
Romans 15:13 May the God of hope fill you with all joy and peace in believing, so that by the power of the Holy Spirit you may abound in hope.

Luke 1:37 "For nothing will be impossible with God."

Matthew 5:9 "Blessed are the peacemakers, for they shall be called the children of God."

Mark 16:15 "He said to them 'Go into all other world and preach the gospel to all creation.'"

2 Corinthians 9:15 "Thanks be to God for His indescribable gift!"

John 14:27 "Peace I leave with you; my peace I give you. I do not give to you as the world gives. Do not let your hearts be troubled and do not be afraid."
Religious Christmas Bible Verses
Christmas is a religious observance. So it is only rightful that we use religious Christmas Bible verse for this season. The verses below give the perfect reasons for a good holiday greeting for your Christian friends and relatives.
Ephesians 5:19 Addressing one another in psalms and hymns and spiritual songs, singing and making melody to the Lord with your heart
Matthew 2:2 Where is he who has been born king of the Jews? For we saw his star when it rose and have come to worship him
Matthew 1:21 She will bear a son, and you shall call his name Jesus, for he will save his people from their sins.

Mark 12:30 "Love the Lord your God with all your heart and with all your soul and with all your mind and with all your strength."

Psalms 29:11 "The Lord gives strength to His people; the Lord blesses His people with peace."

1 John 4.9 And God showed his love for us by sending his only Son into the world, so that we might have life through him.'

James 1:17 "Every good and perfect gift is from above, coming down from the Father of the heavenly lights, who does not change like shifting shadows."

Psalm 8:1 "Lord, our Lord, how majestic is your name in all the earth! You have set your glory in the heavens."

Matthew 12:15-22 "In his name, the nations will put their hope."

John 1:9-10 "The true light, which gives light to everyone, was coming into the world. He was in the world, and the world was made through him…"
What Christmas Is Really About

Christmas is not just about sparkling lights and shopping. There are various things we should think about regarding the birth of Christ. The Bible is full of spiritual allegories that we can learn from. One of these is the announcement of an angel to the shepherds. Of all people, why did God choose the people who were considered as those of the lowest class of society? He can make kings of all nations gather to witness Jesus' birth or at least the high priests. Why did He allow Him to be born in a place meant for animals and lay down on a tray they feed on? Upon analyzing these simple questions, we can find a deeper meaning of what Christmas is about.
1 Peter 1:4 To an inheritance incorruptible and undefiled and that fadeth not away, reserved in heaven for you
1 Peter 1:15 But as He who had called you is holy, so be ye holy in all manner of conversation
Whether we choose to celebrate Christmas or not, knowing that the Messiah came to save us should be enough for a Christian. Jesus taught us how to live by setting an example through His life. We can never be equal to what He did. But we can use the knowledge from the Bible to live a better life as children of God. By practicing love, compassion, and faith, we can make every day feel like Christmas day.