Christmas is the happiest and the busiest time of the year. So, if you want a hassle-free trip during this wonderful holiday season, plan ahead and avoid the stress of coming up with last-minute activities. People prepare various activities when the holiday season comes. Many of us are occupied with planning for parties, gifts to give, dishes to prepare, and what decorations are needed for a successful celebration. Unfortunately, because of these preparations that occupy our time and energy, we are too busy to remember the real reason why we are celebrating Christmas. As Christians, we shouldn't get carried away by other things that will distract us from our faith. Instead, in this Christmas season, we should meditate on Christmas Scriptures to strengthen our faith.
As social beings, we cannot help but be enticed with gatherings that are fun and entertaining. And during this celebratory season, we should be mindful not to indulge ourselves with worldly things. Instead, in every aspect of our lives, our faith in God should be our priority. Christians should know what the meaning of Christmas is. To remember Jesus and to celebrate His life that paved the way for our salvation.
What Does The Bible Say About Christmas?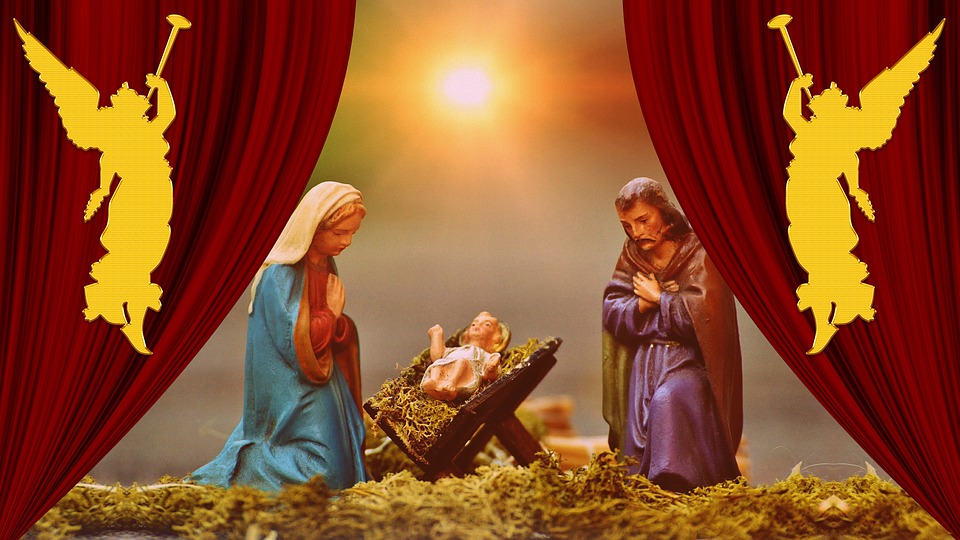 Christmas is a celebration held to honor the birth of Jesus Christ. It is an occasion often held with festive activities. Many agree that Jesus' birth should be celebrated as it is one of the highlights of the Gospel. It is as important as the celebration of his death and resurrection or what we know as Good Friday and Easter. Throughout history, there has been an ongoing debate on whether celebrating Christ's birth is Biblically accepted or not. But what does the Bible say about celebrating Christmas? Does the Bible approve of Christmas celebrations? Here, we will try to weigh Christmas Scriptures that discuss this topic.
Should Christians Celebrate Christmas?
The Bible has no mention of the early Christians celebrating Jesus' birthday nor did He once give a command that it should be celebrated. In fact, there is no record of any birthday celebrations by Jews, Gentiles, or Christians mentioned in the Bible. And this is because, in their traditions, birthdays are not important. Celebrating Christmas is not permitted nor prohibited in the Bible. However, if we wish to celebrate Christmas, then we should do it in a way that pleases God. We should be clear about why we are celebrating Jesus' birth means to the world. We should be mindful not to adopt unholy practices and beliefs when celebrating Christmas.
Although Christmas celebrations were not included in the Bible, we can still commemorate Jesus' birth. Some nations have developed a habit of putting ungodly things in the spotlight during Christmas which we should mindful not to tolerate. One of these is the belief that Santa Claus is real and has elves to help him make presents for children who are well behaved. As Christians, we should keep the celebration of Jesus' birth as blessed as possible. We should remember that His birth should be remembered as what God had intended it to be. It is our job to direct people to be godly in all ways during this special holiday season. We should be responsible for telling our friends and relatives what Christmas is truly about.
Bible Verses About The Birth Of Christ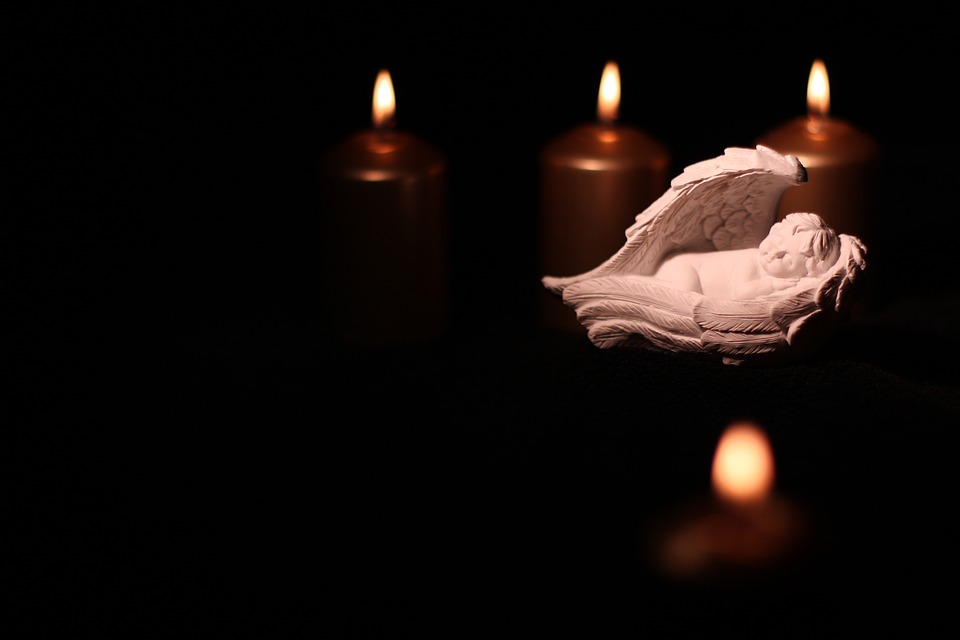 God has blessed us through the birth of Christ. His birth is one of the greatest gifts that we have received from God. Here are some of the Bible's best Christmas scriptures that tell us about what happened on this historical day when the Light of the World was born.
Luke 1:30-31 And the angel said to her, "Do not be afraid, Mary, for you have found favor with God. And behold, you will conceive in your womb and bear a son, and you shall call his name Jesus.
Matthew 1:21 She will bear a son, and you shall call his name Jesus, for he will save his people from their sins.

1 John 4.9 And God showed his love for us by sending his only Son into the world so that we might have life through him.'

Matthew 2:2 Where is he who has been born king of the Jews? For we saw his star when it rose and have come to worship him
John 1:9-10 "The true light, which gives light to everyone, was coming into the world. He was in the world, and the world was made through him…"
Luke 1:46-47 And Mary said, "My soul magnifies the Lord, and my spirit rejoices in God my Savior,

Matthew 2:10 "When they saw the star, they were overjoyed."

Luke 2:12 And this will be a sign for you: you will find a baby wrapped in swaddling clothes and lying in a manger.
Zechariah 13:1 "On that day there shall be a fountain opened for the house of David and the inhabitants of Jerusalem, to cleanse them from sin and uncleanness.
Luke 2.11 'This very day in David's town your Saviour was born — Christ the Lord!'
Best Christmas Scriptures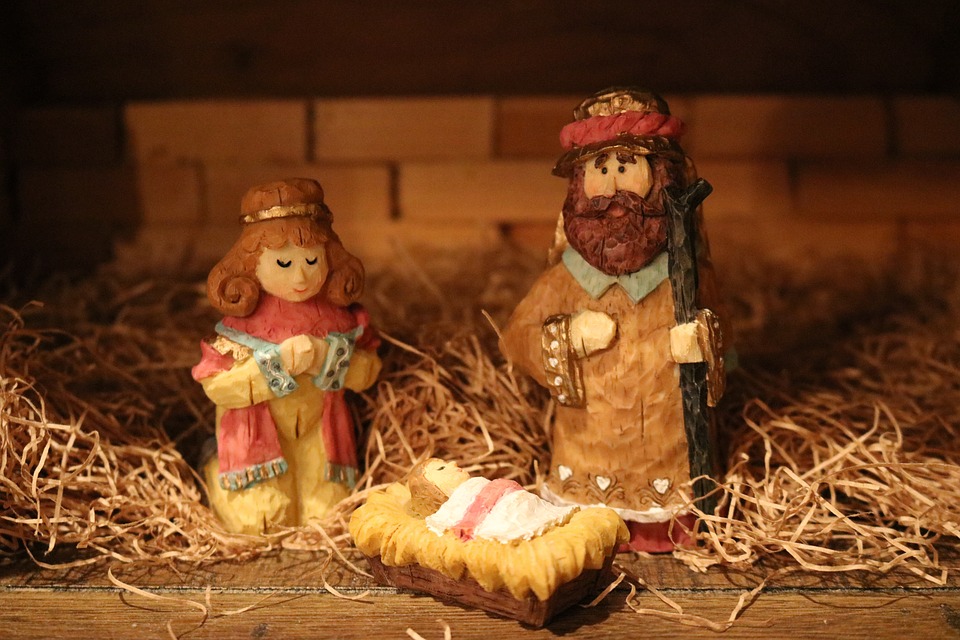 As we can read in the Bible, the shepherds showed their joy through praising God for the wonderful gift of Jesus. Prior to Jesus' sacrifice on the cross, He spent a few years preaching and teaching. During that time, he taught the people how to live according to the will of God. Jesus rebuked their old ways and their wrongdoings without hesitation and told His disciples to do the same. He is the way, the truth, and the life. To celebrate His birth, we should highlight the teachings of the Bible. Meditating on the words of God is the best way to celebrate Christmas. Also, it is good to note that spreading Christmas Scriptures will surely brighten this season!
Acts 5:31 Him hath God exalted with his right hand to be a Prince and a Savior, for to give repentance to Israel, and forgiveness of sins.
John 1:14 And the Word became flesh and dwelt among us, and we have seen his glory, glory as of the only Son from the Father, full of grace and truth.
One of the amusing things about the Bible is that it never contradicts itself. The birth of the Messiah was long written before Mary was born. Prophets from the Old Testament like Isaiah had declared signs that will appear once the Son of God is born. Meaning, Christmas or the birth of Christ was foreseen to happen in the New Testament. Below, we have listed some Christmas Scriptures that are perfect for this season.
Christmas Scriptures about Joy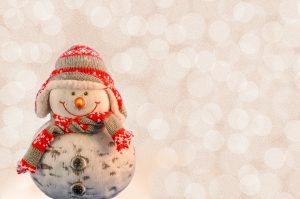 A popular Christmas song titled "Joy to the world" was made to express the feelings we have during Christmas. The birth of Jesus makes the world joyful because we know that He came to bring salvation to the world. His birth marks the new hope for the reconciliation of our relationship with God. Through Jesus, we have come to know the purpose of God in our lives. To have the chance to be with Our Father in heaven eternally is surely a reason to rejoice. Hence, Christmas should be full of joy. Additionally, happiness is not meant to be savored alone. We should share it with our family, relatives, friends, and even strangers. Let's make the world a better place by bringing joy to everyone this season.
Luke 1:46-47 And Mary said, "My soul magnifies the Lord, and my spirit rejoices in God my Savior,
Romans 15:13 May the God of hope fill you with all joy and peace in believing, so that by the power of the Holy Spirit you may abound in hope.
1 Chronicle 15:16 David also commanded the chiefs of the Levites to appoint their brothers as the singers who should play loudly on musical instruments, on harps and lyres and cymbals, to raise sounds of joy.
Luke 1:30-31 And the angel said to her, "Do not be afraid, Mary, for you have found favor with God. And behold, you will conceive in your womb and bear a son, and you shall call his name Jesus.

Matthew 2:10 "When they saw the star, they were overjoyed."

Luke 1:14 "He will be a joy and delight to you, and many will rejoice because of his birth."
Christmas Scriptures about Love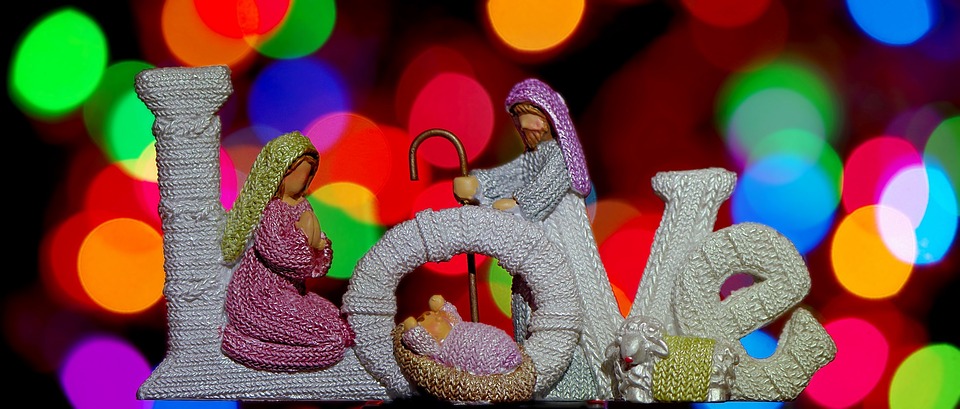 The season of Christmas gives us memorable experiences as we give and receive the gift of love between family, friends, relatives, and even strangers. As we should all know, the greatest gift of love we receive during Christmas is the love from God. And because God loved us first, we should also love others freely. In this Christmas season, we should be reminded of the selfless love that Jesus has for us. And to reciprocate it, we should exhibit that kind of love to others around us as well.
1 Corinthians 14:1 Pursue love, and earnestly desire the spiritual gifts, especially that you may prophesy.
Proverbs 11:25 A generous person will prosper; whoever refreshes others will be refreshed.
Luke 10:27 And he answered, "You shall love the Lord your God with all your heart and with all your soul and with all your strength and with all your mind, and your neighbor as yourself."
2 Corinthians 13:11 Finally, brothers, rejoice. Aim for restoration, comfort one another, agree with one another, live in peace; and the God of love and peace will be with you.
Acts 20:35 In all things, I have shown you that by working hard in this way we must help the weak and remember the words of the Lord Jesus, how he himself said, 'It is more blessed to give than to receive.'"

1 Corinthians 16:14 "Let all that you do be done in love."

2 Corinthians 9:15 "Thanks be to God for His indescribable gift!"
Christmas Scriptures about Giving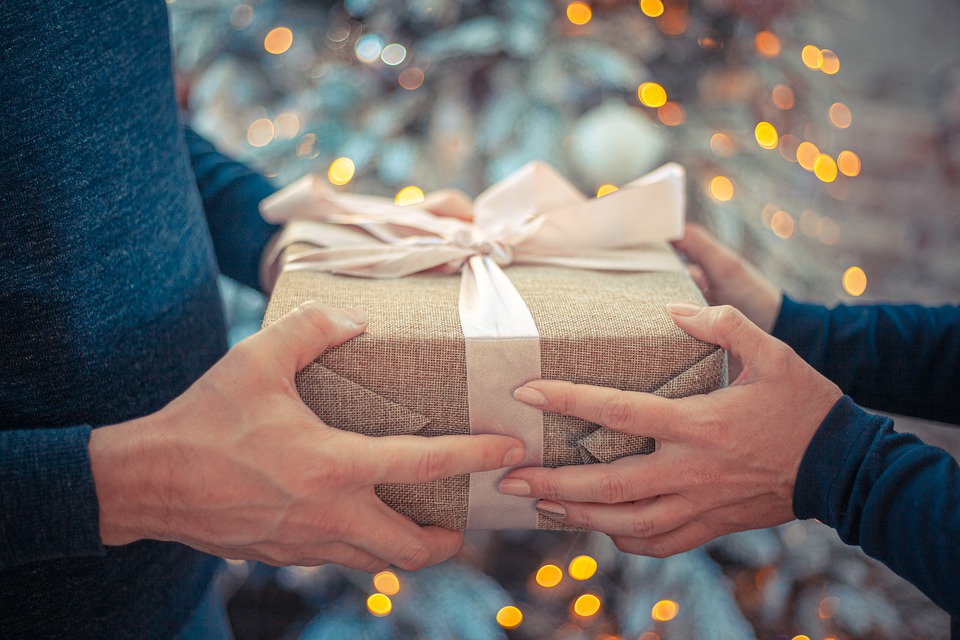 Love is the most important concept of Christmas. Without God's love, Christmas will not exist. And because He loves us, He gave us the gift of His only son, Jesus Christ, who brought salvation to the world. Through Him, we learn that when we love someone, giving is inevitable. In any relationship, we often show our affection by giving something to our loved ones. It can be time, effort, and physical gifts. The Bible says that great is the love that chooses to lay down one's own life for the sake of his friend (John 15:13). And an important commandment of God is to love our neighbors (Matthew 22:23). Christmas is about giving from the heart. So in the spirit of this season, be encouraged to give as we give you these Christmas scriptures about giving.
John 3:16 "For God so loved the world, that he gave his only Son, that whoever believes in him should not perish but have eternal life.
Romans 12:10 Love each other with genuine affection and take delight in honoring each other.
Proverbs 3:27 Do not withhold good from those to whom it is due when it is in your power to do it.
Hebrews 13:2 Do not neglect to show hospitality to strangers, for thereby some have entertained angels unawares.
Proverbs 21:26 …the righteous gives and does not hold back.
2 Corinthians 9:10 Now He who supplies seed to the sower and bread for food will supply and multiply your seed for sowing and increase the harvest of your righteousness.
Proverbs 22:9 He who is generous will be blessed, for he gives some of his food to the poor.
Proverbs 28:27 He who gives to the poor will never want, but he who shuts his eyes will have many curses.
How Can We Feel The True Spirit Of The Christmas Season?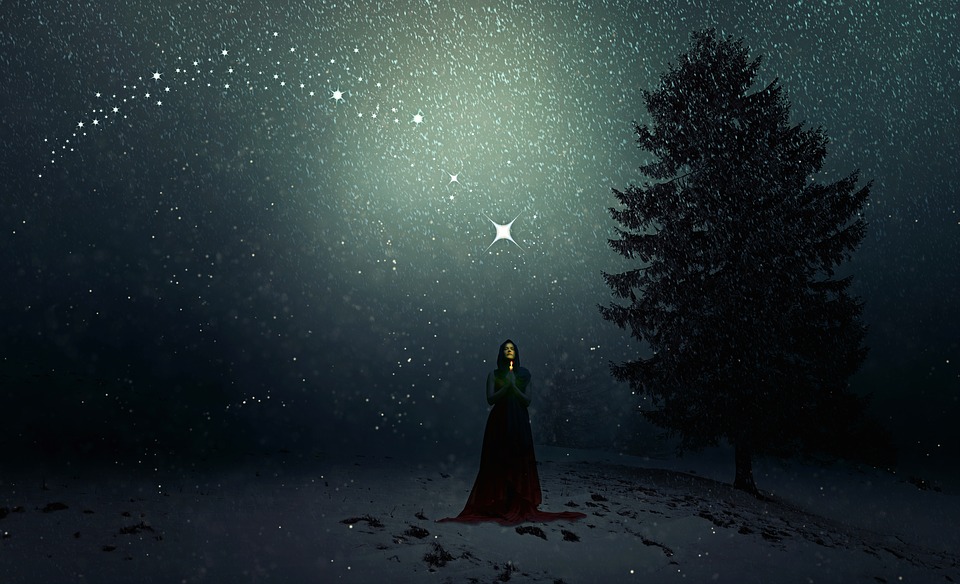 As Christmas approaches, we tend to rush through various things. The nearer we are to Christmas day, the more stressed we feel. Because of this, we often miss the joy of Christmas and fail to feel its true spirit. To feel the true spirit of Christmas, we should revert our attention back to our savior, Jesus Christ. The more that we hurry to do a lot of things, the more emphasis that we put on it. We should always remind ourselves that the joy of Christmas can be felt by knowing the things that God wants us to learn through the birth of Jesus. This celebration should reflect our faith. We should offer prayers to the grieving hearts and offer our help to those who need it.
1 Peter 1:4 To an inheritance incorruptible and undefiled and that fadeth not away, reserved in heaven for you
Of course, it is nice to receive gifts; but our focus should be on becoming a giver. We should act as blessings to one another; to the underprivileged. Through positive actions, the spirit of Christmas can be felt by everyone. Most often, we connect Christmas to material things for the reason that people spend a lot during this season. Hence we tend to be worried about our financial capacity during Christmas. Because we want our loved ones to feel our love, we buy them expensive gifts or treat them to luxurious vacations. However, the giving spirit of Christmas is from the heart and doesn't need to be expensive. Rather than material things, we should focus more on emotional and spiritual things. Hugs, kisses, and kind words from the heart are free. No gift can equate to the kind of warmth that it gives the soul.
Bible Verses To Place On Our Christmas Cards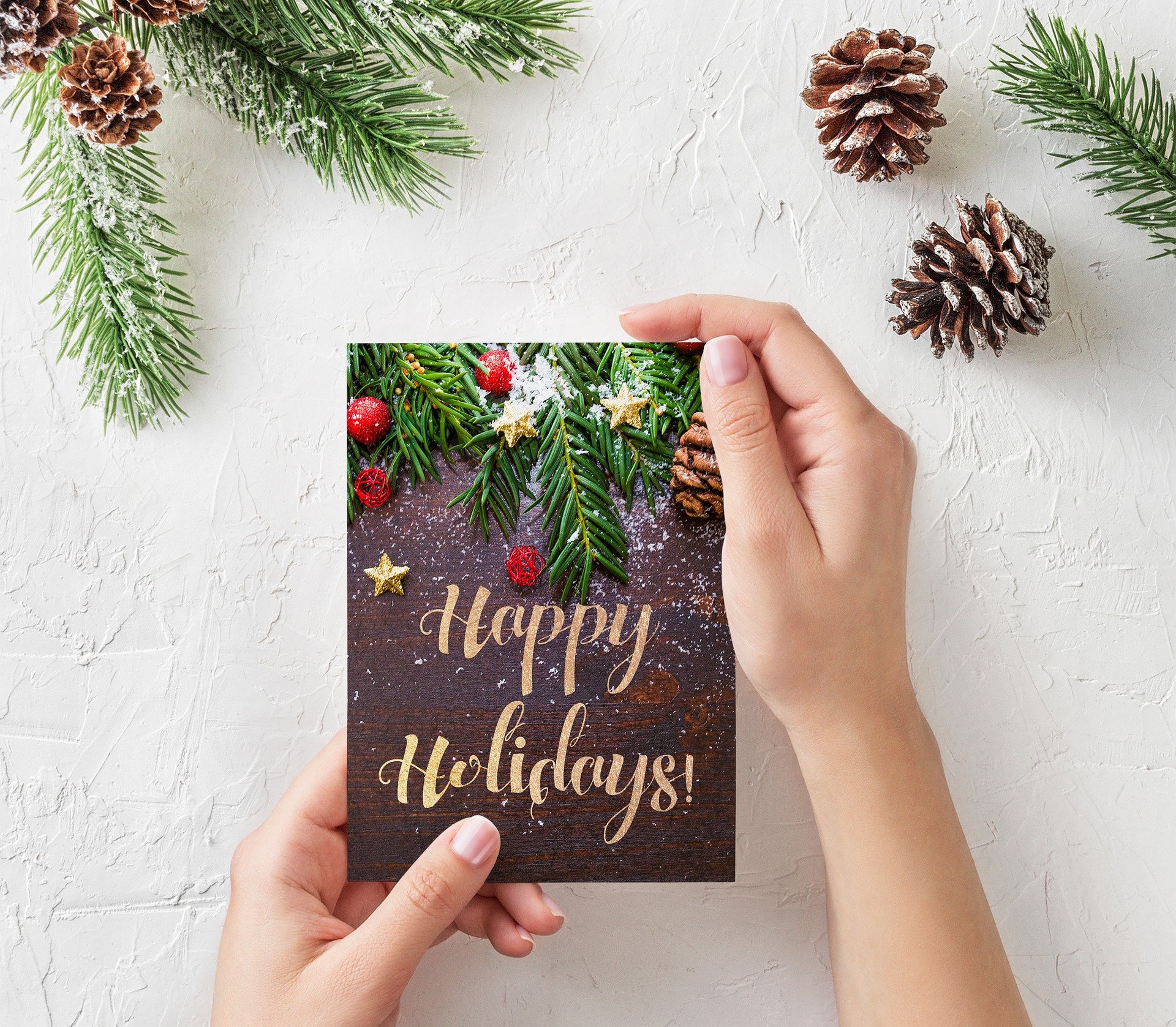 Christmas is not complete without Christmas cards. It is an inexpensive yet tangible way to let our loved ones know that we are wishing them well. Giving and receiving Christmas cards has been an old Christmas tradition that we have carried for generations. In the past, cards were so expensive that only a few people were able to buy and receive one of them. Although it has become a lot more affordable today, its interior value has never changed. It makes both the giver and the receiver feel the warmth of the Christmas season. The best card content you can ever have are Christmas Scriptures and just your luck, we have listed some for you below!
Ephesians 5:19 Addressing one another in psalms and hymns and spiritual songs, singing and making melody to the Lord with your heart
Romans 15:13 May the God of hope fill you with all joy and peace in believing, so that by the power of the Holy Spirit you may abound in hope.

Matthew 5:9 "Blessed are the peacemakers, for they shall be called the children of God."

Luke 1:37 "For nothing will be impossible with God."

Luke 2:14 "Glory to God in the highest, and on earth peace among those with whom he is pleased!
Romans 6:23 For the wages of sin is death, but the free gift of God is eternal life in Christ Jesus our Lord.

Psalms 29:11 "The Lord gives strength to His people; the Lord blesses His people with peace."

Matthew 12:15-22 "In his name, the nations will put their hope."
Final Words On Christmas Scriptures
1 Peter 1:15 But as He who had called you is holy, so be ye holy in all manner of conversation
We all have our own ways of celebrating Christmas. Most of our families have their own Christmas traditions. But apart from parties, gatherings, and gifts, don't forget to also celebrate the birth of Jesus Christ! Jesus' birth teaches us valuable lessons of love, giving, and faith. Through these Bible verses, we hope you have been reminded of the true meaning of Christmas. Have a Merry Christmas from us all at Christian.net!