A chaotic world and a fragile heart is a painful combination. No matter how strong we think we are, we can't completely put a strong fence around our hearts to keep it from getting hurt. Also, through the years, with or without any intent, we have and will hurt others. However, the Bible has spoken about arguments and sins among families and neighbors. There are various verses in the Old Testament that show us that even God Himself can get jealous (Exodus 20:5). As much as we can read about sins punishable by God's law, one can not overlook how God emphasizes forgiveness in the Bible.
God Forgave Us Through His Only Son
For the wages of sin is death (Romans 6:23). In the Old Testament, God gave Moses two clay tablets containing the Ten Commandments of what God wanted the Israelites to do and follow. Whosoever caught disregarding these laws shall be put to death by stoning. Hence, these commandments given to Moses were called the stone commandments. However, when Jesus came, everything changed, including the law. Instead of stones for sins, God granted us forgiveness through His Son who redeemed us, giving us new life. By dying for us, our Lord Jesus Christ became the sign of salvation and God's forgiveness to humanity.
Jesus knew He was going to be put to death for our sins though he never sinned. "God made him who had no sin to be sin for us, so that in him we might become the righteousness of God" (2 Corinthians 5:21). Here are some verses that show God's love for us and how He forgives us for our sins and transgressions.
Psalm 103:10-14
He does not treat us as our sins deserve or repay us according to our iniquities. For as high as the heavens are above the earth, so great is his love for those who fear him; as far as the east is from the west, so far has he removed our transgressions from us. As a father has compassion on his children, so the Lord has compassion on those who fear him, for he knows how we are formed, he remembers that we are dust.
Romans 5:8
But God demonstrates his own love for us in this: While we were still sinners, Christ died for us.
1 John 1:9
If we confess our sins, he is faithful and just to forgive us our sins and to cleanse us from all unrighteousness.
Luke 23:34
"Father, forgive them, for they do not know what they do."
Psalm 86:5
You, Lord, are forgiving and good, abounding in love to all who call to you.
Matthew 26:28
This is my blood of the covenant, which is poured out for many for the forgiveness of sins.
Joseph Forgave His Brothers Who Tried To Kill Him
The story about Joseph The Dreamer is one of the most known stories in the Bible and it is a great example of forgiveness. In Genesis 37, we can see how Joseph was hated by his brothers because of Jacob's thirteen sons, he loved Joseph the most. Jacob gave Joseph gifts such as a And when Joseph later told his brothers his dream, interpreting that they will bow down to Joseph, they hated him even more.
Genesis 37:6-8: He said to them, "Hear this dream that I have dreamed:Behold, we were binding sheaves in the field, and behold, my sheaf arose and stood upright. And behold, your sheaves gathered around it and bowed down to my sheaf."His brothers said to him, "Are you indeed to reign over us? Or are you indeed to rule over us?" So they hated him even more for his dreams and for his words.
This then led Joseph's jealous brothers to create a scheme to be rid of him. When Joseph went to meet his brothers while they were tending to their flock of sheep, his brothers then attacked him. They tore the special robe Jacob had given him and sold him as a slave. To falsify the news of Joseph's death to their father, Joseph's brothers dipped his torn robe in the blood. Their father believed the story his sons told him; Jacob was killed by a fierce animal.
Genesis 37:33-34 And he identified it and said, "It is my son's robe. A fierce animal has devoured him. Joseph is without doubt torn to pieces." Then Jacob tore his garments and put sackcloth on his loins and mourned for his son many days.
Joseph The Dreamer In Egypt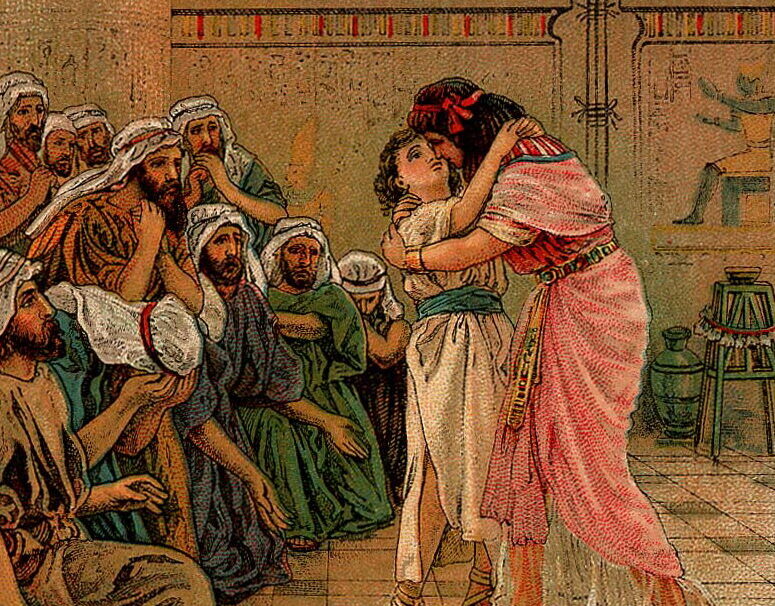 Photo From Google Images
By the grace of God, however, Joseph rose from being a slave to Pharoah's trustee; the second in command of all Egypt. After the interpretation of Pharoh's dreams showing seven years of abundance and seven years of famine, Joseph was placed in charge of storing food for the years of famine. When the years of famine then came, people from other lands went to Egypt to purchase food. This then is where Joseph met his estranged brothers though they didn't recognize him. Instead, just as Joseph's dream was, they bowed down to Pharaoh's trustee.
Despite all the things his brothers had done to him, the moment Joseph recognized them, he carried no anger. Instead, all the longing he had for his family resurfaced. He forgave them and shared with them all the wealth he had acquired.
Genesis 45:14-15 Then he fell upon his brother Benjamin's neck and wept, and Benjamin wept upon his neck.And he kissed all his brothers and wept upon them. After that his brothers talked with him.
From this story, we can see how Joseph didn't try to take vengeance nor make his brothers apologize. Instead, he brought them all to Egypt with their wives and offsprings to live bountifully with him.
Forgive As God Forgives Us Every Time
Love is understanding and understanding bears forgiveness. Therefore, to love one's neighbor as God commanded means also to forgive them. No one in this world is sinless. We have all sinned against each other and against God. Yet, He chooses to freely forgive us when we repent. We commit sins everyday; transgressions we did not mean or did things because of the weakness of our hearts. In this regard, God commanded us to forgive everyone as much as He let us off the hook every time we mess up. Even those who didn't seem sorry or never said they were wrong.
Colossians 3:13
Bear with each other and forgive one another if any of you has a grievance against someone. Forgive as the Lord forgave you
Matthew 5:44
"But I say unto you, Love your enemies, bless them that curse you, do good to them that hate you, and pray for them which despitefully use you, and persecute you;"
Matthew 6:14-15
"For if ye forgive men their trespasses, your heavenly Father will also forgive you: But if ye forgive not men their trespasses, neither will your Father forgive your trespasses."
Luke 6:35
"But love ye your enemies, and do good, and lend, hoping for nothing again; and your reward shall be great, and ye shall be the children of the Highest: for He is kind unto the unthankful and to the evil.
Daniel 9:9
The Lord our God is merciful and forgiving, even though we have rebelled against him;
Romans 18:19-21
Beloved, never avenge yourselves, but leave it[i] to the wrath of God, for it is written, "Vengeance is mine, I will repay, says the Lord." To the contrary, "if your enemy is hungry, feed him; if he is thirsty, give him something to drink; for by so doing you will heap burning coals on his head." Do not be overcome by evil, but overcome evil with good.
The Parable Of The Prodigal Son
In Luke 15, we can read the story about a son who asked for his share of his father's property while his father was still alive. He took all the money and spent it all with unholy things.
Luke 15:13 Not many days later, the younger son gathered all he had and took a journey into a far country, and there he squandered his property in reckless living.
The prodigal son starved and earned money by feeding pigs in the city. The son realized how wrong he was and decided to come back and beg his father to hire him as one of his servants, which he thought would be a lot better than feeding pigs. The moment he came home, instead of reprimanding or punishing his disobedient son, he even welcomed him with a feast.
Luke 15:21-24 And the son said to him, "Father, I have sinned against heaven and before you. I am no longer worthy to be called your son."But the father said to his servants, "Bring quickly the best robe, and put it on him, and put a ring on his hand, and shoes on his feet. 23 And bring the fattened calf and kill it, and let us eat and celebrate. 24 For this my son was dead, and is alive again; he was lost, and is found." And they began to celebrate.
In this story, God was showing us how a father can forgive his son despite everything he had done. And Our Father in Heaven is indeed greater than any father here on Earth. His love is endless so are His grace and forgiveness to His children.
Repent And He Will Forgive You
Our God is the God of everything we know and we don't; from fires, earthquakes, storms, and thunders. But above all, He is a loving, just, and forgiving God. He will always open His arms to welcome us, whatever sin we made out of our nature as humans. Repentance and forgiveness come hand in hand. The moment we asked sincerely, God is sure to answer.
Psalms 32:5
"I acknowledged my sin unto thee, and my iniquity has I not hid. I said, I will confess my transgressions unto the LORD, and thou forgavest the iniquity of my sin."
James 5:16
"Confess your faults one to another, and pray one for another, that ye may be healed. The effectual fervent prayer of a righteous man availeth much.
Ecclesiastes 12:14
about the judgment day: "For God shall bring every work into judgment, with every secret thing, whether it be good, or whether it be evil."
Various circumstances and verses about forgiveness can be found in the Bible. Some might think that forgiving is easier said than done. However, the Bible does not just mention things for a specific purpose. The wisdom hidden inside its pages is endless and timeless. Forgiving is not just a matter of spiritual healing. It also affects our physical body through hormones and stress-reactions. Harboring bad feelings for a long time wounds the heart and leaves scars to our soul while weakening our immune system. If forgiveness is hard, so as not committing sins is.