The colorful celebration of Easter is just around the corner! The anticipation of a distinct phase is in the air that brings the elated atmosphere setting for the occasion. Easter bunnies and Easter eggs peek out for new vivid colors as the wonderful spring period sprouts. Children are no doubt expecting the best tasting chocolates and marshmallows for the season. Additionally, refreshing hues of spring also begin to cover the horizon. As the season of Lent ends, a joyful season of Easter begins. At this time you must be preparing for a basket of Easter eggs or a pile of Easter card messages for the upcoming season. After a period of personal reflection during the days of Lent, the Easter season, on the other hand, is a time to reconnect with the people we love. It is just an apt occasion to celebrate love by extending it to others.
If you're still looking for the best ideas to write in your Easter card messages, the following fresh and crisp lists of Easter card messages are created just for this season. Don't waste every opportunity to show your love to the people around you. Creating your own Easter cards with messages sensibly crafted for your loved ones is a great way to relish the Easter season.
Use the following Easter card greetings to bring sunshine to people even further for the coming spring! Take them as inspirations to compose your own messages or simply write down the Easter card messages. Those of which you want to share with others. Either way, make sure to spread good vibes and warm wishes with your Easter card messages.
Religious Easter Card Messages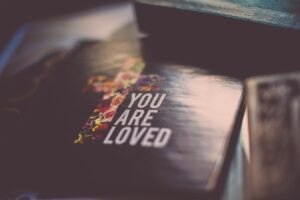 Easter is a celebration of the resurrection of Jesus Christ. It is a season full of joy and gladness towards eternal life that awaits us and in celebration of the wonderful work of Christ. The resurrection of Christ is the real essence of the Easter festivity. We aren't celebrating because of duty and tradition, but of genuine cheerfulness, because victory was won by Jesus two thousand years ago. Creating Easter card messages is a lovely way of sharing this good news with others. It is a perfect way to remind our neighbors, families, and friends of the most significant event in Christian history. Aside from sharing Easter Bible verses, a sincere message relating this good news to others will touch the hearts of many.
The heart of Easter is not cute bunnies or chocolates, but it is the triumph of Jesus Christ that has set us free. More often than not, people tend to focus on the festivities rather than the victory; on the celebration instead of the object of the occasion. Easter is fun and full of joyous merriment. There is no need to be too critical about the meaning of this season, but celebrating it in a wrong connotation will devalue its significance. Simple Easter card messages pointing towards Christ's triumph will remind us of this event's true meaning. However, biblical truths won't make any message less appealing. In fact, most people need reminders of God's goodness and the victory in Jesus from time to time.
Share with them these religious Easter card messages to create a bountiful celebration of Easter season:
Let us thank and exalt the resurrected King who defeated the sting of death and the schemes of darkness. We are brought from darkness into the light like Springs' daylight. In Him, new hope is found like a promise in the season of spring. Therefore, we stand with a delightful banquet and joyous singing.

May you be blessed with God's abundant love sweeter than any puddings this Easter. His love and compassion will never cease even in the coldness of winter or the heat of summer. It is new every morning with the fragrance of Spring.

Praying that your Easter is full of peace and warmth, I hope that you always find serenity all year round.

Celebrate Jesus! Celebrate for He has risen from the grave. He was raised from the dead. Forever, He is lifted high. Celebrate the resurrection of the Lord this Easter.

I thank God for bringing you as a blessing to me. I pray for a joyous celebration of Easter for you this year. May the Lord pour His abundant blessings upon you this Easter and always.

May the miracle of Christ on the cross and His resurrection inspire your year ahead. I wish you a blessed Easter celebration.

Jesus showed the sweetest love in the most difficult way when He gave Himself to the world. May we be reminded of this selfless act so we can have eternal life. God bless your Easter holidays!

Indeed, it is a happy Easter day for Jesus has won the day by washing our sins away. Be blessed as you rejoice with Easter's real purpose!

Christ hopped up out the grave, which no bunny can do. This is the greatest story of being free. It is the biggest leap in history- from death to life. Have a blessed Easter!
Easter Card Messages for Kids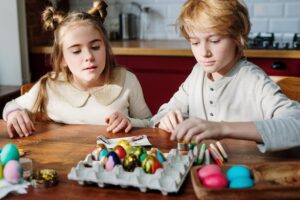 Children enjoy the Easter season better than adults do. Their thoughts on the Easter celebration are pure excitement. The impressions of their heart towards Easter are all genuine emotions. Other than their love for sweet treats given lavishly for this occasion, they enjoy the events, games, Easter egg hunts, gatherings, and festivity. Easter's distinct flamboyant colors are also attractive to the youngsters. They adore the decorations, pastel tones, and the springtide season. Whatever is fun, whatever is amusing to their charming senses, they will admire. It is never difficult to please a kid nor to make them smile. Likewise, it is never complicated to write Easter card messages for them.
Kids are simple. They appreciate every single gift. What less for adults may be more to them. Giving them an Easter card is as easy as wrapping gifts for them. Dying Easter eggs will be a lot harder. You don't have to rummage for words to write. What they need are simple, yet heartfelt words from you. They like all the shades in the color wheel. Designs of the Easter card won't matter a lot the way adults look at it. Any plunge of colors and heartfelt words will make them smile.
Let them know that Easter is not just about candies and bunnies by writing to them. It matters that they learn this practice of expressing love to others by writing it. They follow what they see. They also will extend to others what is given to them. Chocolates delight their lips, but earnest hopes delight the heart.
Nourish your kids with these cute and thoughtful Easter card messages:
To my egg-stra special little one, you are the sweetest gift God gave to me. If you continue to be egg-stra good this year, you'll have better presents than those chocolates on the basket. Love you, sweetheart!

I know you are super egg-cited to start the Easter egg hunting game and to nibble on your chocolates, but take time to thank God and the Easter bunny for his treats. Enjoy the rest of Easter day!

My sweetie pie, gumdrop, snoogums-boogums, and the apple of my eye, Happy Easter! I love to give you a basket of chocolates and toffees for you are so dear. Don't forget to share these treats to make it sweeter.

Hop! Bop! Hop! Bop! That's how my heart pumps whenever I look at you. You are such a wonderful blessing to me. Enjoy your treats and goodies, my dearest child. Cheerful Easter and year ahead!
Help your kids see Easter beyond a basket of Easter eggs and sweets with these Easter card messages:
Hey, little one, Happy Easter! I hope you'll have an egg-static Easter celebration. May your basket bristle with the sweetest treats this year. Be ready with tons of surprises and bounces for the year. Keep that smile wherever you go. I love you dearly and deeply!

Happy Easter to the cutest little bunny I know. Have a wonderful Easter holiday! Hoping that the Easter bunny springs your smile to the happiest beam possible. I love you, sweetie!

I wish you an exciting Easter egg hunt game and a brimming basket of chocolates. Celebrate with joy and laughter together with your friends this holiday. Happy Easter, honey!

I bet you love sweet treats and Easter games every year and you've probably been looking forward to this from the start of the year. Enjoy the fun and also relish the love God gave to save you. Happy Easter (name of child), you are a fantastic expression of God's love to me.
Easter Card Messages for Family and Friends
Easter is the most pertinent time to bond again with family members and friends. It is the best time to shape family connections by the bond of peace. There is plenty to celebrate during the Easter season and this does not exclude the celebration of family ties. Spreading Easter cheer begins with your closest circle. It is impossible to extend love to others without first giving it to those inside your home and your dearest sphere. Some even consider Easter a major family holiday. Therefore, the ideal way of observing Easter is being with your loved ones, investing time with them, and sharing laughter.
There are also plenty of ways to express your love. Count in Easter card messages on your holiday list to show your friends and loved ones how much they matter to you. By doing so, this also tells them that on these special occasions, you were thinking of them. Sometimes, making this occasion memorable does not mean obtaining something on our part but giving something to others for this action will definitely touch their heart. These Easter card messages are written to earnestly appeal to the people you love. Use them as a guide for your own Easter card message. Otherwise, make good writing by sticking with these greetings. Make it more personal by writing down the names of the people who you will give the Easter card message.
Here are earnest samples of Easter card messages for friends and family:
Wishing you a bright Easter holiday! May you enjoy the Easter season as you celebrate it with your loved ones. It is such a delightful day to remember an amazing person like you. A blissful Easter and year ahead!

Happy Holidays! Cheers to the days we had full of nice and funny things. I hope things won't change that much about our friendship. I am more than grateful to celebrate Easter with you. You are always in my thoughts especially this time of spring where memories of you sprout in unison of the season. Have a merry Easter, my dear!

There are three things about Easter that I like the most. First, is the time I can spend with the people I love. Second, the remembrance of the reason for this season. And third, the delectable dishes on the table which I can eat as much as I want. Let's eat together until our stomach is so full this Easter holiday. Hope to see you soon! Happy Easter!

Hoping of all the nicest things for you this Easter season. I wish that your heart be full of gladness, your mind with stillness, and your stomach with chocolates. May your Easter holidays brim with laughter, candies, Easter eggs, and joy. Wishing you a great Easter Sunday! Hooray!
Other joyous greetings for the Easter season which your family and friends will love:
I'm glad to spend the holiday with you. Fun becomes three times entertaining when you're around. Laughter echoes around the room when you start to crack a joke. Hope you know how happy we are to have you in our lives. Enjoy your spring holiday!

This Easter, let the true essence of Easter fill your home and heart. May the God of all grace sustain you with love and peace. Warm wishes to you and your family. Godspeed your Easter and the rest of the year!

Sending our dearest greetings to you, we wish you a joyful Easter celebration this year. There's no time to frown this holiday season so we pray you'll have the best and sweetest things this Easter and always. We hope your Easter this year is as beautiful as the flowers blooming in spring.

I am grateful to celebrate Easter with you. I hope you find all the Easter eggs you've been searching for. In the same way, I wish you'll discover what you are really looking for. Sending you all the love and bliss this Easter season!

Here's to the Easter eggs that we never find. Here's to the lavish chocolates we can't outrun. Wishing you happiness and a happy Easter!
Inspirational Easter Wishes
Composing an Easter card message is an endearing manner to show love and heartfelt wishes. Easter is a busy season. However, it is not a reason to disregard the truth that some people might be needing encouragement during this time of year. As a new period unfolds, everybody needs some cheer and assurance of a good phase to come. It matters that we let our loved ones know how we feel about them and how we hope for positive things for them. Writing a letter encompassing your warm wishes is actually a good way to start the spring season since Easter marks the first day of spring.
After a couple of months of overwhelming wintry weather, Spring is the best time to stand with a renewed hope. This is the most accurate season to spread hopeful greetings and encouraging wishes. It's also the time to shake away the icy flakes on our shoulders. Begin the spring season by spreading hope around. You can start this with a personalized Easter card message.
Here are some inspirational wishes you should check before creating your Easter cards:
You make spring appear to bloom better than they actually are when you smile together with the flowers around. May you relish the holiday season with gladness and love. Happy holidays!

Good things happen to good people. At some times, they don't know it but how spring comes to end winter, so you're waiting will never be wasted. Wait until the daylight of season and the warmth of spring shed you beams of goodness and happiness. Have a blessed Easter!

Easter is a wonderful celebration and a joyful time of year. I hope that you revel in new hope as another period unfolds. Greater things are yet to come, and I can't wait to see you there where you will shine as you are. Happy Easter!

Thank you for being part of my sunshine. Sending you the love that you deserve this Easter holiday. Don't forget to have fun!

Sending sparkling wishes on your way! May your Easter abound with joy and wonder.

The Easter season is full of surprises. This is the same with life. Some days come rain and thunder but other days, the sunlight shines like of that spring, full of promises. May you find peace wherever you are and whatever you feel right now. A smile will help a lot. Sending you hugs and wishes!

Wishing you a bright and blooming Easter. Enjoy this festive holiday with the people you love the most. Happy Easter!

More than the chocolates and bunnies, I wish you a fulfilled life ahead. You're almost there. I can see rays of light peering through the sky. Shine as you are! Cheerful Easter!

May your heart be empty of worries and fear. Instead, let your soul be filled with God's refreshing goodness and grace. This Easter season, you are starting to conquer places. Have a delightful Easter!
Easter's Essence
Easter is an exciting and colorful season. Nevertheless, it is still a religious celebration of Christ's resurrection. Secular traditions may vary as time progresses but its essence never will. Its spirit of love and festive gathering also remains. The unison of families during this celebration makes it livelier than other occasions. The added warmth of Easter card messages makes it more indicative of love worth expressing. Whatever words we use in spreading the good vibes of Easter, it is the thought and sincerity that resonates with those whom we send the Easter card messages to.
Although writing a card might be old- school in an era of digital communication, it makes a bigger impact when it is personally written. This is because it shows the sincerity of your heart. Modes of writing vary along the way. You can also consider using online platforms to send your warm wishes too. It doesn't matter how you send it, it's what's inside the card that will matter.