Not every day is going to be a pleasant walk in the park, especially so for those of us who struggle with mental illnesses. The battle against them can get overwhelming at times, hindering us from appreciating how to enjoy life the way God wants us to. Having depression and anxiety hurts. Suffering from bipolar and eating disorders can leave an emotional and mental scar. But, turning to prayer for mental health can help one find comfort and guidance during their low moments.
Prayers for mental health do not guarantee a quick fix to the illness that plagues us, neither is it a plaster that barely holds the wounds together. In our prayer, there is power. We are submitting and allowing God to take over entirely and receive the healing we need slowly, but surely.
The power of prayer also resonates when we pray not just for ourselves, but for those around us as well. Through prayer, we keep those in our lives with mental illness close to our hearts. God knows true suffering, but He also knows how to endure. There is always hope when we place our faith in the Lord who cares for us.
Prayer for Mental Health: 15 Prayers for Mental Illness Content
1. A Prayer For Mental Health
This mental health prayer acknowledges that we all have our weaknesses, but also seeks out the Lord as the strength we need to overcome any challenge given to us.
Heavenly Father, I come to You today seeking guidance. I strive to be your strongest soldier, but I cannot do so without acknowledging my own weaknesses first. Lord, help me to overcome these battles my mind has challenged me with. I know You are always with me, and any hurdles I face can be conquered with Your grace. My mental health is not at its best, but I know this suffering is not permanent. This too shall pass, and I pray that You will continue to watch over me as I fight my own personal demons. Amen.
Jeremiah 33:6 Nevertheless, I will bring health and healing to it; I will heal my people and will let them enjoy abundant peace and security.
2. Short Prayer For Healing And Recovery From Mental Health
A short prayer can be our most powerful one yet. Powerful prayers are intentional and don't have to rely on their length in order to reach God. Let's seek His grace as we build ourselves back up, recovering from our own mental battles.
Dear God, thank You for never giving up on me, even when I had seemingly given up on myself. You give me so much hope to continue walking on this path You carved out for me. When all seemed hopeless, You were there to light my way. You are my light in the darkness, and I pray that Your light continues to give me the mental fortitude to overcome the evils that hinder my road to recovery. Amen.
Isaiah 38:16 Lord, by such things people live; and my spirit finds life in them too. You restored me to health and let me live.
3. Prayer For Mental Strength
With God as our pillar of strength and a prayer for mental strength to guide us, we can find the will to go on, little by little.
Oh Lord Almighty, the battle with my inner demons continues to consume me. I pray that You lend me Your strength in order to face these mental perils in due time. Times may seem bleak now, but I know this suffering is only temporary. There is always a glimmer of hope in Your loving embrace, and with You as my source of strength, I know I can conquer anything. Grant me the resilience to keep on going, because I know You still have so much in store for me. Everything I lift up to You, Amen.
1 Corinthians 10:13 And God is faithful; he will not let you be tempted beyond what you can bear. But when you are tempted, he will also provide a way out so that you can endure it.
4. Prayer For Depression And Anxiety
In this prayer for depression and anxiety, let's have faith and take comfort in God, our Eternal Savior. Our illnesses do not define who we are.
Dearest Lord, thank You for always being there for me – both for all the good times, and the bad. I know my mental illness does not define me, for who I really am is a child of Christ. I may trip and fall every now and then, and it will hurt, but no pain is as eternal as Your everlasting love for me. Please continue to guide me as I get back on my feet. I shall not be defeated by my mental illness, for your healing hand will save me in my darkest hours. Amen.
Psalm 56:11 In God I trust and am not afraid. What can man do to me?
5. Prayer For Healing For A Family Member Or Loved One
A prayer for someone with mental health issues can be the best thing we can offer. A helping hand may become a healing hand with this prayer for compassion and may help ease the suffering of our loved ones.
Almighty Father, I offer you this prayer as a humble plea for help. The pain of my loved ones is my pain to bear as well, so I humbly ask that You continue to watch over them and provide them with the enlightenment they need. Give them the courage to continue moving forward. Shrouded in darkness, they may lose sight of all the good in life that You have provided. Although I may not grasp the gravity of their suffering, I know that You will not abandon them in their time of need. I pray that those around me, whose overpowering mental illnesses overwhelm their everyday life, may find peace through You, Lord. I lift these up all to You, Amen.
Galatians 6:2 Carry each other's burdens, and in this way, you will fulfill the law of Christ.
READ ALSO: 25 Prayers for Health and Healing
6. Prayer For Understanding A Loved One With Mental Illness
A person's pain will be difficult to truly understand if we haven't lived through their pain ourselves. But, we can pray to God for guidance on how we can move forward in our own way for the sake of the ones we love.
Dear Lord, I come to you filled with humility. Please hear my plea to become a good support system for my loved ones. In their moments of weakness, help me be strong for them. I may never understand their plight, but I can be there for them as a fellow servant of Christ. Help me reconcile with my arrogance, as the only true savior in life is You, oh Lord. While I can give them words of encouragement, my efforts will ultimately lead those around me to You. You are the true guidance that we all need to face the world, and may we never forget that, even in times of weakness. Amen.
Colossians 3:12 Therefore, as God's chosen people, holy and dearly loved, clothe yourselves with compassion, kindness, humility, gentleness, and patience.
7. Deliverance Prayer for Those With Bipolar Disorder
For those suffering from bipolar or if you know someone who does, take some time to say this short mental health prayer.
Father, we come before Your throne with confidence and lift all those who are suffering from bipolar disorder to You. God, You are our Rescuer and Deliverer. Free them from this mental illness and fill their lives with joy. In Your name, we ask that You deliver them from their mood swings and cycles of depression and inertia so that all that is left is lightness and peace in their hearts. Whenever they feel emotional impulses, we ask that You place Your hands over their heads and hearts and still them. Finally, bless them with spiritual rest from this battle. Thank You, Father, Amen.
2 Thessalonians 3:16 Now may the Lord of peace himself give you peace at all times and in every way. The Lord be with all of you.
8. Prayer for Those With Eating Disorder
In this short intercessory prayer for mental illness, let's pray for those who are suffering from eating disorders. If you know anyone around that needs this prayer, pray for them.
Heavenly Father, I pray for your loving hands to be upon those that is burdened by eating disorders. I ask that You give them faith in their road to recovery to full health. Bless them with people who can support them and encourage them whenever they need it. Remind them daily that their bodies are not insignificant but are precious to You. You do not look at their outward appearance of them but at their hearts. So, God, grant them the compassion to set their hearts right with You and love their bodies as You love them. Amen.
1 Samuel 16:7 Do not consider his appearance or his height, for I have rejected him. The Lord does not look at the things people look at. People look at the outward appearance, but the Lord looks at the heart.
9. A Prayer of Faith for Mental Health and Healing
This is a short but powerful prayer for your own mental health and healing.
Father, heal me today and save me from the mental illness that plagues me. In You, there is nothing impossible. You move mountains and stop the seas from roaring. In You, I have nothing to fear. Let every shackle that bounds me to be broken today! May your healing hands be upon me today and let me go forth as a freed person! In Jesus' name, Amen.
Luke 8:48 Then he said to her, "Daughter, your faith has healed you. Go in peace."
10. A Hopeful Prayer To Be Healed
In all our prayers, let us remain hopeful for a breakthrough in healing.
God, You are the King of Kings and Lord of Lords. Indeed, in You, there is nothing too great or too impossible for You. I come before You humbled and ask for a miracle to happen and cure me of my mental illness. What seems impossible for me to handle is nothing compared to what You can do. Have mercy upon me and allow a miracle breakthrough to happen when all seems bleak. Assure me that there is more power to Your name than I can ever imagine. You made the blind see, the deaf hears, and the lame walk again. Therefore, I believe in Your name that a breakthrough will happen in my life too. So, hear my prayers for hope today, God. Amen.
Matthew 19:26 Jesus looked at them and said, "With man this is impossible, but with God all things are possible."
11. Prayer for Mental Wellness (NAMI)
This is a prayer for mental wellness by the National Alliance on Mental Illness.
O Father of mercies and God of all comfort, our only help in time of need: We humbly ask that you behold, visit, and relieve those who suffer from depression, anxiety, schizophrenia, and other mental illnesses. Look upon them with the eyes of your mercy; comfort them with a sense of your goodness; preserve them from the temptations of the enemy; and give them patience under their affliction. In your good time, restore them to health, and enable them to lead the rest of their life in reverence of you, and to your glory. Grant that finally they may dwell with you in life everlasting, through Jesus Christ our Lord. Amen.
Luke 1:37 For no word from God will ever fail.
12. A Prayer for Strength and Freedom Against Mental Illness
Lord, the shining light of my life and my guide. You are the one who guides me through everything. Through these difficult times, help me soar like an eagle and fly. Help me to rise above and overcome my challenges, just as an eagle that soars in the sky. May I gain strength from Your word and from my prayers. I know that one day I will be free as an eagle. There will be no more shackles and not be held down by these weights called mental illness. I trust in You Mighty God who frees me. So give me the strength and renew me every day, till You come again. I ask these in Jesus' name, Amen.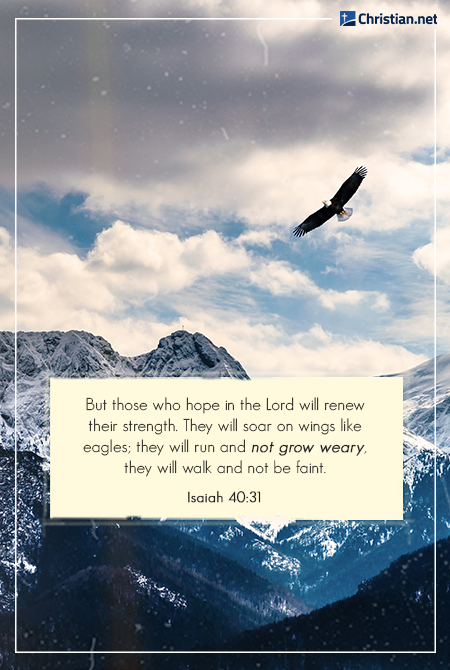 Isaiah 40:31 But those who hope in the Lord will renew their strength. They will soar on wings like eagles; they will run and not grow weary, they will walk and not be faint.
13. Prayer For Trust and Courage To Move Forward
Don't beat yourself up for feeling this way. Instead, seek courage through Christ, as our lives are in His good hands.
Heavenly Father, please grant me the will to face every day with courage. Instill bravery in my heart so that I may continue to move forward in Your name. Though I may feel lost and discouraged, I know everything is possible with You on my side. Allow me the grace to stumble, for I know Your outstretched hand will be reaching out as I get back up. You are the ultimate courage I need to face my demons, and I know as each day passes by, things will become easier with You watching on the horizon. I lift up all my worries to You, Amen.
Ezekiel 36:26 I will give you a new heart and put a new spirit in you; I will remove from you your heart of stone and give you a heart of flesh.
READ ALSO: 50 Motivational Trust God Quotes
14. A Prayer for The Will To Continue Living
Dear God, today is one of those days where my will to live falters. I question my purpose and the meaning of life and I cannot find my answer. However, deep down, I know that You are the answer to everything. I just cannot see it yet. You are my strength and shield. In every trial and season, You are faithful and You go before me. So I ask of You Lord to give me the hope and the patience to know my purpose in life. In the meantime, it is my deepest desire to make You my will to live through each day. Help me, Lord to not lose sight of You. In Jesus' name, Amen.
Psalm 33:20 We wait in hope for the Lord; he is our help and our shield.
15. A Prayer for Comfort at Night
Lord, my lighthouse, be my shining light through these dark times. Fill me with joy and peace, and let the Holy Spirit come to me and guide me through my troubles. Though now may be a dark time for me, I know that in You, the light at the end of the tunnel is near. Guide me to that light and guide me out of this darkness and lead me into eternity with You. I ask this in Jesus' name, together with the Holy Spirit, Amen.
John 3:16 For God so loved the world that he gave his one and only Son, that whoever believes in him shall not perish but have eternal life