Celebrating graduation is one of the most momentous moments in everyone's life. It is an outward indication that a person has reached an amazing milestone after all their hard work. We all know that studying is not easy. It requires a lot of time, effort, and brain cells to pass every exam and complete every paper, alongside the class requirements needed. Sometimes, we are too busy that we have to also engage with write my essay services online just to get through.
So as this event comes and every student throws their graduation caps up high, let's celebrate this accomplishment with them. This event is just a completion of one part of their lives. As we end this chapter, another chapter will begin. However, one thing remains constant in all these changes, God is still with us, toward the new beginnings of our lives. Let these good Bible verses for graduation inspire and encourage more of our graduates to keep the spirit as they move forward to the next level.
Here are some great Bible verses for graduation that you can use. These verses are applicable even if you're a graduating student or a new graduate. Also, if you have a family member or a friend who's graduating, you can view this list to discern the perfect message for a graduation card.
Bible Verses for Courage to Encourage this Generation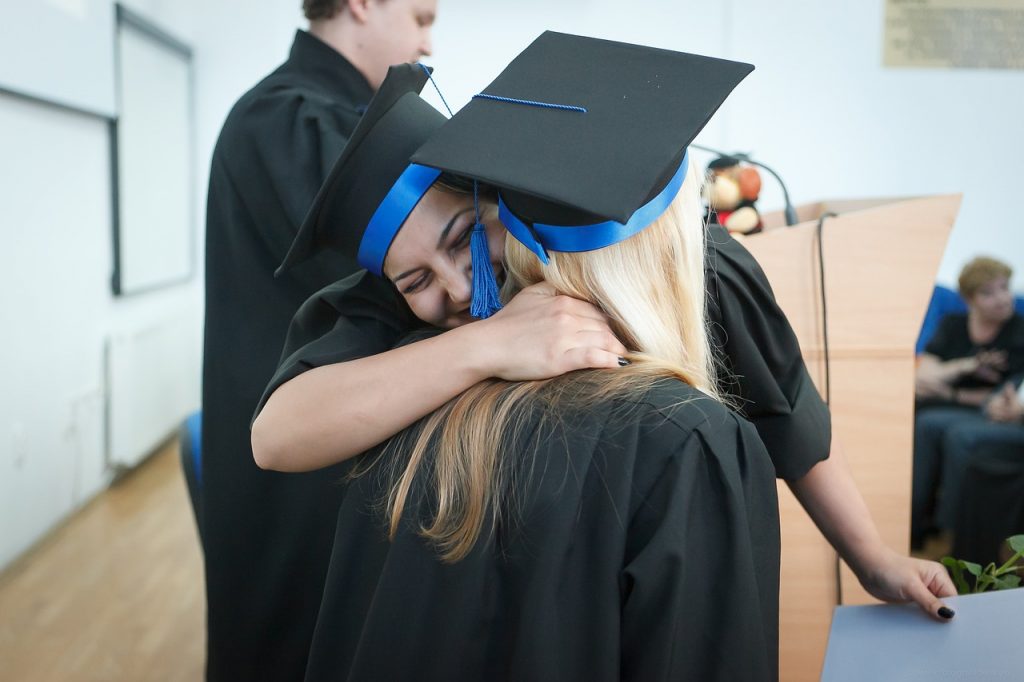 Whether you're entering a university or finally stepping out into the real world, learning is always a continuous process. Aside from that, you can also expect to face different circumstances that may shake you and your faith. There are a lot of tests that are waiting for you as you transition into the next step. Whether those tests are for your mind, character, or spirit, you need to have strength, courage, and perseverance. And your capabilities may not be enough to overcome those trials; you need to hold on to God, our powerful God.
Yes, stepping into a new world brings us uncertainties. Doubts, fears, and anxieties may enter your minds and hearts as you think of possibilities that might occur along the way. It will make you weak. But, one of the promises God has given us is that He will always be with us. Wherever God places you, you will be strong and courageous because you have our mighty God on your side. Fear and distress are nothing because God gives you security. God gives promises you can carry, to have an act of unwavering courage and perseverance as you move forward. These are some of the Bible verses for graduation that may guide you so your faith will not be shaken.
Joshua 1:9

Have I not commanded you? Be strong and courageous. Do not be frightened, and do not be dismayed, for the Lord your God is with you wherever you go."

1 Chronicles 16:11

Seek the Lord and his strength; seek his presence continually!

Psalm 31:24

Be strong and take heart, all you who hope in the LORD.

John 14:27

Peace I leave with you; my peace I give to you. Not as the world gives do I give to you. Let not your hearts be troubled, neither let them be afraid.

James 1:12

Blessed is the man who remains steadfast under trial, for when he has stood the test he will receive the crown of life, which God has promised to those who love him.
As you head off to a university or to your new job, a new world awaits you. You are probably thinking, "Do I need to gain the world's approval or acceptance?". One of the struggles everyone faces as they go into a new place unfamiliar to them is acceptance. We all want to be accepted and feel valuable. By doing so, the world will try to test our commitment and integrity to our beliefs. We will encounter a new level of peer pressure, where new classmates or co-workers might influence us. The enemy tries to attack us by luring us to the world, losing our path towards God. So you have to ask ourselves, am I here to please the world, or I am here to represent God? And if you are here for God, expect a lot of spiritual battles along the way.
Going back to God's word, He said that He will always be with us. God gives you a confident assurance in any circumstances. With God's peace, you don't need to fear about the circumstances you will face. Even if sin, uncertainty, and other forces are at war within you, you have the courage and perseverance to face and overcome them. And how can you do that? Continue to seek God, no matter what. Read the Bible and pray continuously. Strengthen your relationship with God. You have to remember that God's crown of life is not glory and honor here on earth, but the reward is in Heaven. And the way to be in God's winning circle is by loving Him and staying faithful even under pressure. With this amazing promise to hold on to, these good Bible verses about graduation become even more precious and significant.
Inspiring Others' Life with these Bible Verses for Graduation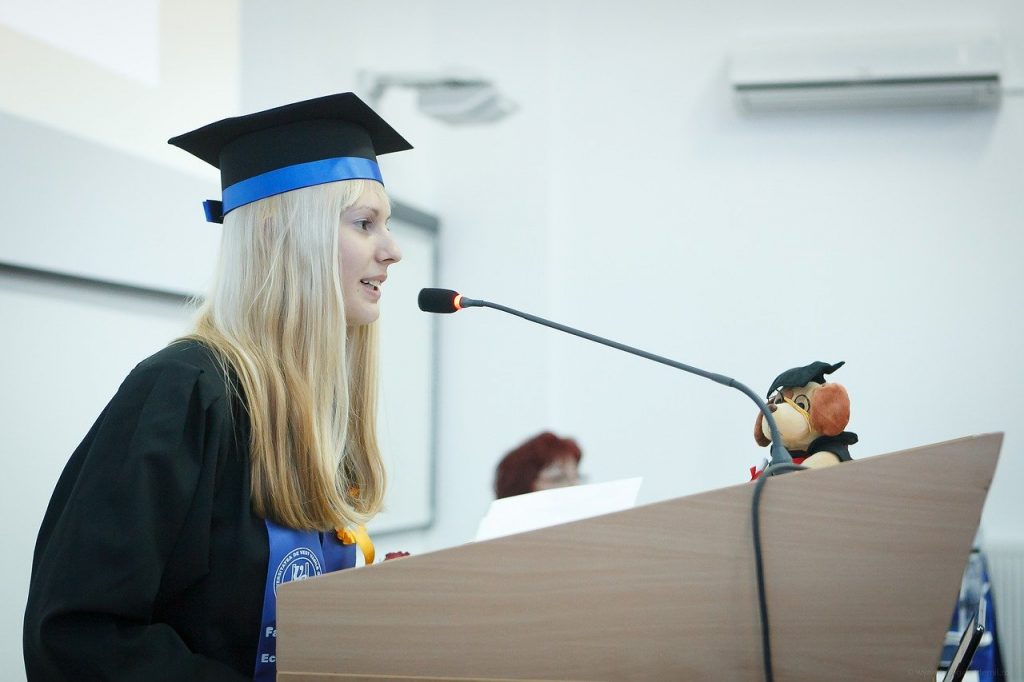 To graduate from high school or university is not an easy journey. Before we get to hold our diplomas, we experience a lot of trials and hardships. It tested us physically, mentally, emotionally, and spiritually. And all the lessons you earned along the way, molded you to become who you are today. Your testimonies can serve as an inspiration to other people who are about to take the steps similar to yours. The Scripture says we are the salt and light of the world (Matthew 5). Our identity is anchored and secured in Jesus Christ. As you celebrate this achievement, let other people see Christ in you.
Matthew 5:13-15 "You are the salt of the earth, but if salt has lost its taste, how shall its saltiness be restored? It is no longer good for anything except to be thrown out and trampled under people's feet. "You are the light of the world. A city set on a hill cannot be hidden. Nor do people light a lamp and put it under a basket, but on a stand, and it gives light to all in the house.
As Christians, we are called to set apart from the world and not to blend with them. You should affect the world and not the other way around. You start to lose your worth when you become so much like the world. God wants you to affect the lives of others with positivity. It is similar to seasoning where you bring out the best flavor in food. If you continue to live in Christ, you will glow like lights. And this light will show what Christ is like. Don't let sin dim your light. Be a beacon of truth, and don't shut your light off from the rest of the world. Humbly submit yourself to God and open your heart so you can hear his call.
Continue to let your light shine through the darkness, and don't let anyone take that light away from you. Don't let the world take away your worth. Ignite the fire in your heart as you reach out for people to know God is as you read these Bible verses for graduation.
Isaiah 6:8

And I heard the voice of the Lord saying, "Whom shall I send, and who will go for us?" Then I said, "Here I am! Send me."

Matthew 5:16

In the same way, let your light shine before others, so that they may see your good works and give glory to your Father who is in heaven.

1 Corinthians 16:14

Let all that you do be done in love.

1 Timothy 4:12

Let no one despise you for your youth, but set the believers an example in speech, in conduct, in love, in faith, in purity.
Wherever God sends us, we shouldn't be afraid to go. And we shouldn't be afraid to share the gospel with everyone you encounter in your journey. Regardless of our age or even our past, God can use us to advance His kingdom. Never look at your age or even your past as a handicap, not to do God's calling. An exceptional example of this is Timothy. He was a young pastor, and many older Christians would easily look down on him because of his age. Yet, he earned the respect of the holders by setting an example in his speech, life, love, faith, and purity. Live so that others may see Jesus Christ in you. As said in a famous Christian quote, "I rather stand with God and be judged by the world, rather than stand with the world and be judged by God."
Relying on God's Wisdom for Guidance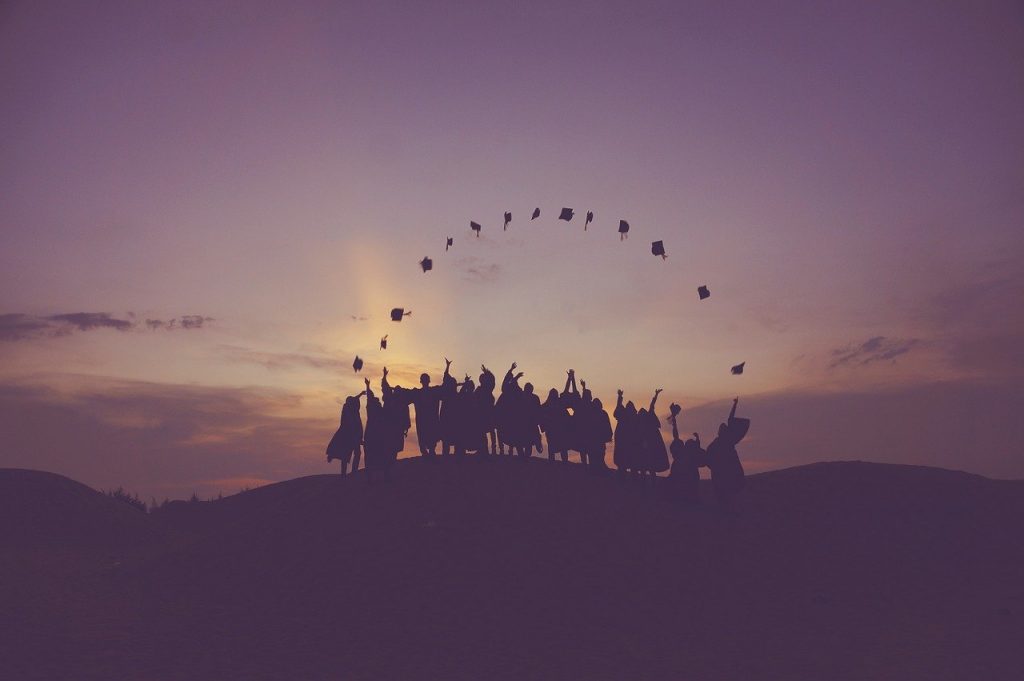 Graduations are events filled with excitement, yet combined with fear and beginnings with blurred endings. Going on to higher education or starting your career can open a world of possibilities. And thinking about our future often gives us anxieties, worries, and doubts. We might commit mistakes and choose the wrong decisions that will affect us. In this life, we will walk through a dark path of uncertainties. Yet, God's word serves as your light ahead so you will not stumble as you walk towards the path he has for you. Trust God, the author of wisdom. And when in doubt, always pray for his wisdom.
Adulting requires us to make choices and decisions in different aspects of our lives. When you have an important decision to make, you might feel like you can't trust anyone. Seeking for the right wisdom is often hard as many factors around you might affect you. But remember, God wants the best for you. He is the better judge of what you want than you are! In every choice you make, learn to trust God completely. Hopefully, these Bible verses for graduation will not only inspire you to rely on God's wisdom for a short time. Whatever season you are in, carry these verses in your heart all throughout.
Psalm 119:105

Your word is a lamp to my feet and a light to my path.

Proverbs 3:5-6

Trust in the Lord with all your heart and do not lean on your own understanding. In all your ways acknowledge him, and he will make straight your paths.

Proverbs 23:18-19

Surely there is a future, and your hope will not be cut off. Hear, my son, and be wise, and direct your heart in the way.

Matthew 6:33

But seek first the kingdom of God and his righteousness, and all these things will be added to you.

Colossians 2:6-7

Therefore, as you received Christ Jesus the Lord, so walk in him, rooted and built up in him and established in the faith, just as you were taught, abounding in thanksgiving.

Proverbs 16:3

Commit your work to the Lord, and your plans will be established.

Colossians 3:2

Set your minds on things that are above, not on things that are on earth.

Proverbs 9:10

The fear of the Lord is the beginning of wisdom, and the knowledge of the Holy One is insight.

Colossians 3:23

Whatever you do, work heartily, as for the Lord and not for men.
As you start a new season of your life, keep in my mind that God got this! Always seek him first. Put him in your life and fill our thoughts with his desires. Take his character for your pattern and continue to serve and obey him. During this lifelong journey, it is inevitable to walk towards a dark or blurry path. You can compare this as walking into woods at night; you'll need light so you'll not trip or fall into somewhere. You need a light for you to have guidance and know your next steps. Let the Bible serve as your light to show you the way.
Trusting God's Promises as You Step on the Next Level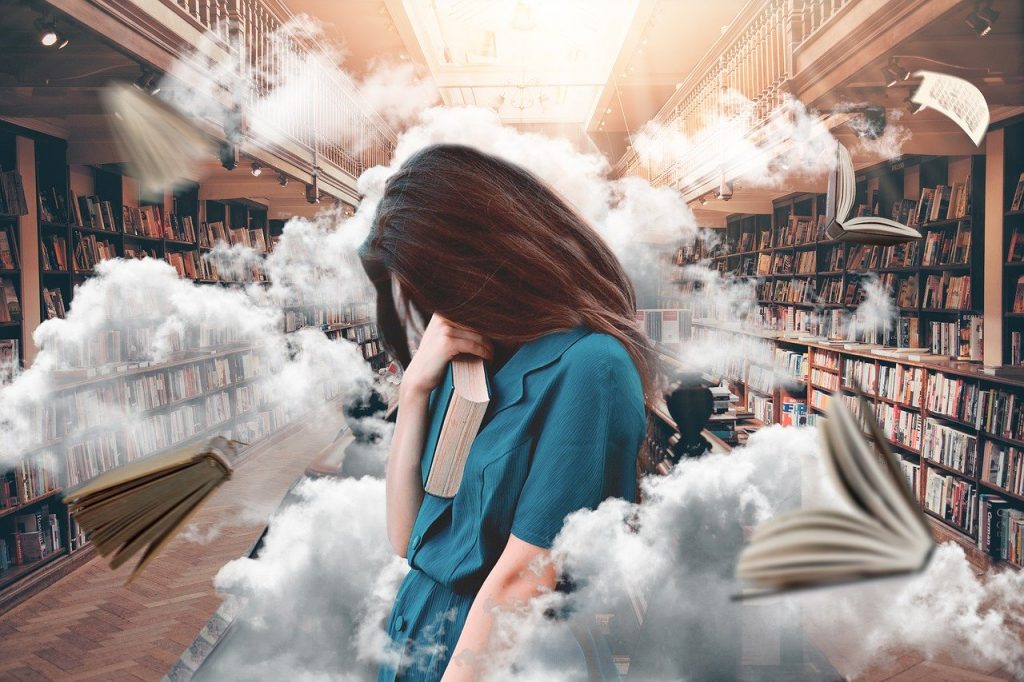 Most of us have different plans and goals we want to accomplish, while others are probably trusting God for their future because they're still unsure about the plans they will take. As you step to the next level, your plans and dreams might change along the way. But God's plan doesn't change. Even if your plans fail, you can find security in God's vision. His plans will take you to places you haven't thought of. All you need to do is trust him and let him lead the way.
If your plans and the desires of your heart are aligned to his will, God will surely help you to fulfill those plans. So you have to ask and re-evaluate your list of plans and dreams. Is it in line with what God wants me to do? It is my calling? Allow God to direct and guide you towards the plans he prepared for you. You will most likely face a season of trimming, where God will mold your character and align your path to him. You will encounter hardships and uncertainties as you go to the next level, yet don't let those hinder you from knowing God's promises. As we celebrate this memorable day, let these good Bible verses for graduation guide you to hold on God's promises.
Psalm 20:4

May he grant you your heart's desire and fulfill all your plans.

Proverbs 19:20-21

Listen to advice and accept instruction, that you may gain wisdom in the future. Many are the plans in the mind of a man, but it is the purpose of the Lord that will stand.

Isaiah 26:3-4

You keep him in perfect peace whose mind is stayed on you because he trusts in you. Trust in the Lord forever, for the Lord God is an everlasting rock.

Isaiah 58:11

And the Lord will guide you continually and satisfy your desire in scorched places and make your bones strong; and you shall be like a watered garden, like a spring of water, whose waters do not fail.

Jeremiah 29:11

For I know the plans I have for you, declares the Lord, plans for welfare and not for evil, to give you a future and a hope.

Philippians 1:6

And I am sure of this, that he who began a good work in you will bring it to completion at the day of Jesus Christ.
Having an unsure future makes us restless. Yet, when we fix our thoughts on God, we will find peace and assurance that our future in Him is secure. Focus your mind on God and his word, and there, you will find all His promises. Those promises will guide you to accomplish His plans for you. With this, we become stable. Uncertainties will not shake us because God supports us with His unchanging love and mighty power.
Sometimes we just want to get through the day, and that's it. Some activities we do daily become normal and boring for us until we start to lose our purpose. We end up wanting to survive a day. It continues until we start to feel stagnant, and worse, we lose the meaning of our life. But remember, you are God's precious child. As a father, God wants the best for us. He wants you to trust Him and surrender your life to him completely. God has a great plan for your life and he will use you according to his purpose.
A Prayer For This Batch's Graduates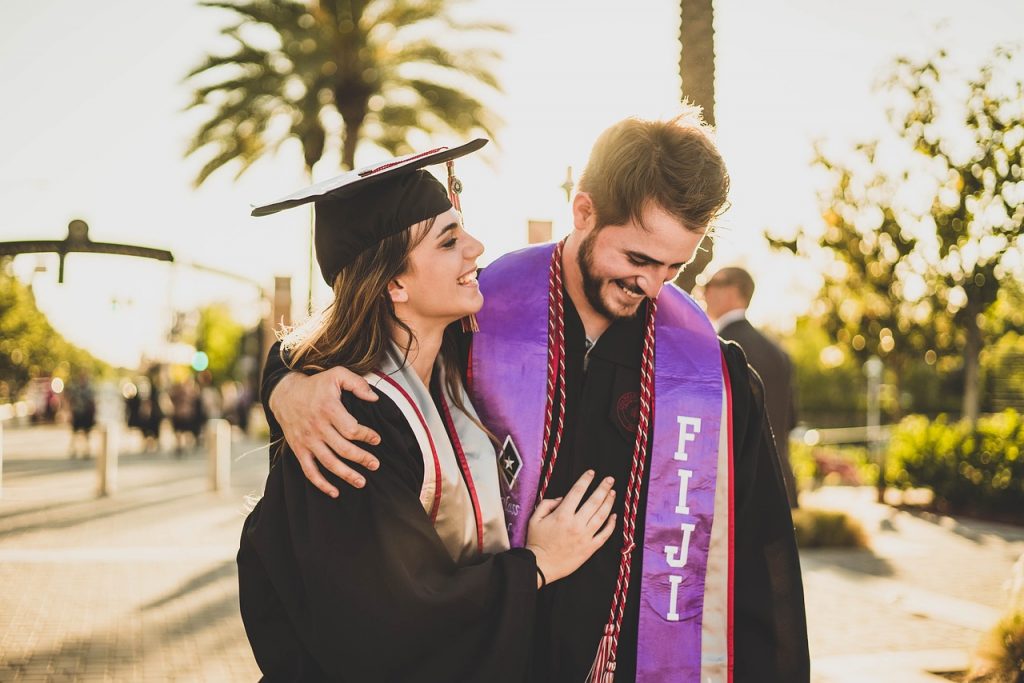 As we celebrate this momentous day with our graduates, let's not forget the one who helped them reach and achieve this milestone, God. Aside from the good Bible verses about graduation you gathered along the way, you can also include this short yet meaningful prayer in your graduation card.
Colossians 1:9-12 And so, from the day we heard, we have not ceased to pray for you, asking that you may be filled with the knowledge of his will in all spiritual wisdom and understanding, so as to walk in a manner worthy of the Lord, fully pleasing to him, bearing fruit in every good work and increasing in the knowledge of God. May you be strengthened with all power, according to his glorious might, for all endurance and patience with joy, giving thanks to the Father, who has qualified you to share in the inheritance of the saints in light.
Pray for this generation of graduates to have complete knowledge of God's will and to have spiritual wisdom and understanding. As they learn to know God more, may their lives continue to produce every kind of good fruit. Let our future leaders become more passionate about Jesus Christ. Hopefully, they will continue to devote themselves to doing more things to advance God's kingdom to all the places where he will place them. Even if they encounter failure, they will not give up because their security is anchored in Christ. They'll stand strong and fix their eyes on Him.
An Inspirational Message for This Generation's Graduates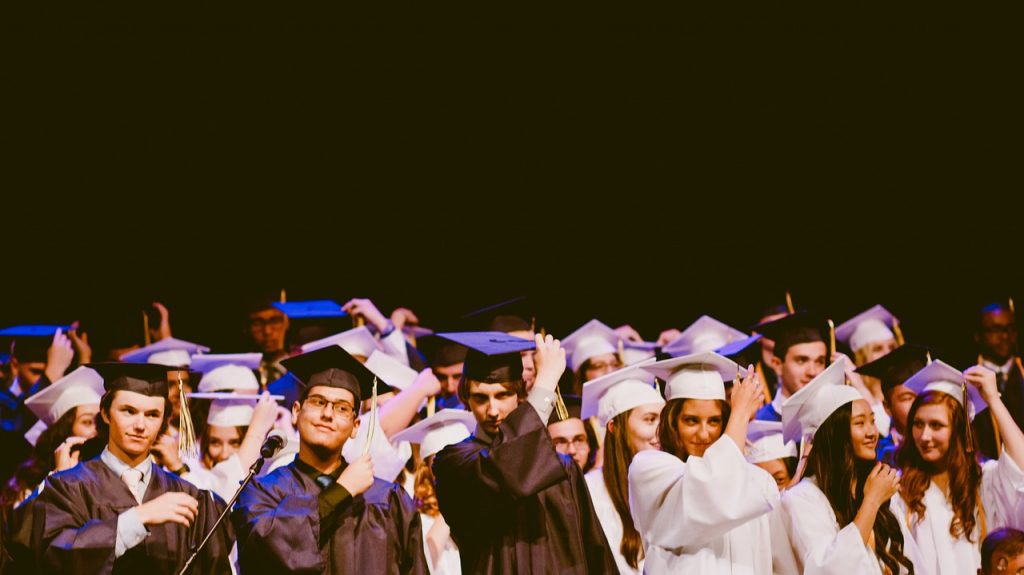 Congratulations! All your efforts didn't end up in waste. Many people are so proud of you for enduring and doing your best in school for years. Celebrate this momentous event with your family and friends. As you receive your hard-earned diploma, remember that it's not only your victory but also God's victory. He fought this battle with you. You witnessed how God kept His promises, and as you start another season, He will still keep his promise. He will always be with you. He is a faithful and promise-keeping God. These Bible verses for graduation are some of his promises that you can keep giving you motivation and inspiration anytime.
God has great plans waiting ahead of you, and He is all that you need. As you take another step of this life-long journey, continue to seek and strengthen your relationship with him. Additionally, in all the things you do, let it be to give honor and glory back to him. When God begins a good work within us, it will continue throughout our lifetime. He will complete it until we meet him face to face. God will help us grow in grace until he finishes his work in our life. When you feel discouraged and want to give up, God won't give up on you. When you feel incomplete, unfinished, or distressed by your shortcomings, remember God's promise and provisions. Don't let the world rob you of the joy of knowing Jesus Christ. Don't let them keep you from growing closer to him.
The most important thing you should have is unwavering faith in God. It will help you get through all the seasons that will pass in your life. You will find great success in all you do as long as your faith in God remains strong. Additionally, all these rewards are earned through your hard work and perseverance.